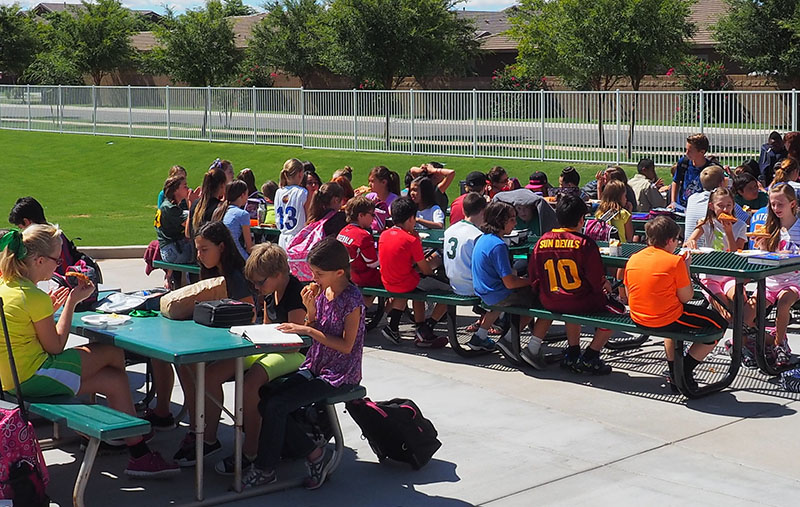 At San Tan Charter School, we aim to provide a fun and healthy environment for lunch. We are not a typical school with a standard cafeteria program, instead we offer a hot lunch catering program unique to each school, please see links below to register for your school hot lunch program.
San Tan Charter School Is A Nut Free and Low Sugar School.  For full details, see our Nutrition Policy.
Following the Montessori philosophies that STCS was founded on, we see lunch time as an opportunity for students and teachers to enjoy lunch together while maintaining a peaceful eating environment and practicing their mutually respectful communication outside of the classroom setting.
ALL NEW and RETURNING FAMILIES must re-register at the beginning of each school year if you wish to utilize the program. Once setup, you create your kiddos menu, make payments within the system and the meals are delivered right to the school.
Recker Campus
Our Recker Campus (PreK – 6) has partnered with Intentional Foods to provide hot lunch options to our families.  Pre-ordering will be required through provided ordering links, sent within your Principal weekly emails.
All foods are not only gluten free, but free from peanuts, tree nuts, dairy, eggs, wheat, seafood, shellfish, soy, and sesame. All sauces and dressings are vegan and made from scratch.
Meal prices range from $5 – $9, varying based on meal size and protein options.
Power Campus
We are excited to announce that at the Power Campus, we have partnered with My Hot Lunchbox, a new lunch program that you will find easy to use and a much more robust menu choice for our secondary students.
1st time user – Select "Create an Account" to be redirected to the Parent Sign Up page. You will add "San Tan Charter School Power Campus" to the account when adding your student(s). For detailed instructions on setting up your new account.
If a child does not have a lunch, and didn't order in the previous month, lunch will be given to your child automatically. An invoice will be emailed to you on the 1st of the following month, and additional lunches are at a cost of $5.00 per lunch. Due to our lunches being catered and specific numbers needing to be given, we do not encourage that children eat without pre-ordering.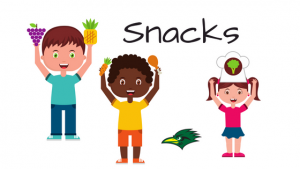 Foods containing nuts and foods with high sugar content are not allowed at San Tan Charter School and may be removed from the learning environment.
Students who chose to eat a snack outside of their scheduled lunch period are free to bring fresh fruit or vegetable, or other items from home – under the following conditions.
Snack time is a classroom option, and students who do not comply with this policy will be asked to discontinue bringing snacks.
Fruits and vegetables are highly encouraged as a healthy snack.
Any plastic silverware necessary to consume the snack should be provided from home.
Snacks must be kept in the student's backpack until snack time.
Students are never allowed to share snacks in the classroom to be cognizant of food allergies.
Students may keep a bottle of water containing water at their seat, provided there is a lid or cap. Water bottles must be taken home to be washed each day.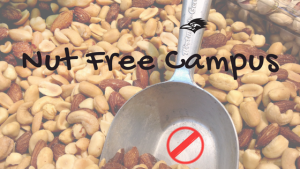 San Tan Charter School acknowledges and understands that additional food and environmental allergies exist and affect our community members. The target of this policy is to support our students who have life-threatening responses to nuts.
In order to comply with the U.S. Americans with Disabilities Act and to keep those students with a deadly form of nut allergy safe at school, San Tan Charter School is a nut free school.  Any foods containing nuts, or any other form of peanutes or tree nuts, are not allowed on school grounds.
No peanut or tree nut sandwiches, granola bars containing nuts, trail mixes containing nuts or nut powders, other snacks containing nuts or any other form of peanuts or tree nuts are permitted on school grounds.
Due to the growing number of students who have been diagnosed with food allergies such as peanut allergies, which can be fatal to some, we ask that you be mindful of the existence of food allergies among children and discourage sharing of snacks or lunches.  Sharing food at school is strictly prohibited.
The following nuts are not allowed on campus:  Peanuts, Almonds, Cashews, Beechnuts, Brazil Nuts, Chestnuts, Hazelnuts (NO Nutella), Macadamia Nuts, Pecans, Pistachios, Shea Nuts, Walnuts
If you do not see a nut on this list, please contact the school if you have questions.
The following items are not allowed at school:
If any of the above-mentioned nuts are listed in the food item ingredients
If the packaging states that the food item contains or may contain nuts, tree nuts, peanuts
The following items are allowed at school:
Food products that are made on shared equipment or in a facility that also processes peanuts or tree nuts but does not contain nuts
Some alternatives to nuts and protein are (available at most stores):
Soy Nut Butter
Sun Flower Butter
Pea Butter Spread
Chickpea Butter
Tahini
Pumpkin seed spread
Avocado Spread
Hummus
Lunch Meats
Cheese
Cream cheese
Egg
Download our Nutrition and Allergy Policy for more details.