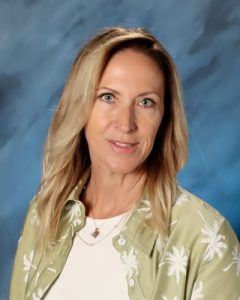 Fancy SimisterMontessori Assistant (1st-3rd)

Southwest Institute of Montessori Studies
Lower Elementary Training Certificate
My Bio
Hello!! My name is Fancy Simister and I am honored to be joining the Montessori classroom grades 1-3 at San Tan Charter School. I was born and raised in Southern California and my husband Ryan and I moved to the beautiful city of Gilbert in 2020. I have two children in their mid twenties, Nicholas and Chloe.
I knew I needed a career change and education seemed the perfect fit. I had been managing a hair salon in Palm Springs for 24 years and wanted to do something more meaningful. I began working for Mesa Public Schools in the Special Education Resource department and immediately knew that this was a perfect field for me. My second year I was an assistant for kindergarten.
I am a cheerleader and encourager. I love to bring out the champion in others. The joy of supporting and helping a child is so rewarding. I am looking forward to inspiring and celebrating your child!
When I am not working I enjoy road trips with my husband and visits to Utah to see my son. I love baking and cooking, working out and bike rides with our dog penny.
Birthday: May 21st
A Few of My Favorite Things...
Color(s): Blue
Flower(s): Hyacinth, Sweet Peas
Healthy Snack(s): Almonds,Snap Peas
"Junk Food" Treat(s):Chips, Jellybeans
Drink(s): Water, Super coffee
Scent(s)/Essential Oil(s): Citrus
Game(s): Badminton,Word Games,Baseball
Sit-Down Restaurant(s): Rarely eat out
Fast Food Restaurant(s): Chick-fil-A
Place(s) to Receive a Gift Card: Fry's, HomeGoods
Most used school/office supply: Flair pens
What I would really like is: A harmonious classroom Heroes: No specific heroes..I find them daily in every day life
Hobbies: Cooking,Baking,Road Trips