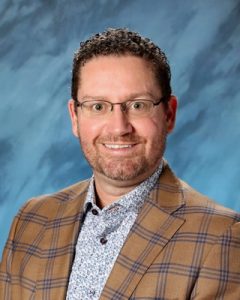 Dr. Kristofer SippelChief Executive Officer/Superintendent

Bachelors in English, Masters and a Doctorate in School Administration
My Bio
Dr. Kristofer Sippel was born and raised in Scottsdale, Arizona. Kristofer has been married to his incredibly supportive wife Rita for over 20 years, and has two sons, Kristofer Jr. and Kenneth as well as three daughters, Katie, Kamrie, and Kacie, all who have or current attend San Tan Charter School; both his sons are graduates of San Tan. He holds a Bachelors in English and a Masters as well as a Doctorate in school administration.
Dr. Sippel has been with San Tan Charter School since its inception back in 2005 serving as the Principal when the school was San Tan Learning Center. Dr. Sippel will continue his position of CEO/Superintendent at San Tan Charter School as the school moves into its 16th year of service to the community. Dr. Sippel manages the day-to-day operations and the growth and development of a hyper-growth charter school taking San Tan from 45 students in 2005 to over 1000 students for the current school year. Dr. Sippel has been in education for over two decades serving students as a Reading Teacher, High School English Teacher, Dean of Students, and Assistant Principal.
Dr. Sippel has received numerous awards and recognition. For the fifth consecutive year, he was featured in the East Valley Tribune as a top school educator. Additionally, he has served as a Library Board Member, Parks and Recreation Board Member, and a City Council Member for the City of Apache Junction. He currently sits on the Tepeyac Leadership Board of Directors and is a member of the Mt. Claret Retreat Center's Advisory Council. Dr. Sippel is active throughout the Town of Gilbert as well; most notable was his service as the Chairman of the Planning Commission for the Town of Gilbert.
Dr. Sippel believes that it is his life mission and calling to provide an amazing education experience to all students.
Birthday: August 22nd
My primary appreciation language is: Tangible Receiving
These are A Few Of My Favorite Things…..
Color(s): Blue
Flower(s): Dogwoods
Healthy Snack(s): Banana
"Junk Food" Treat(s): Score Bars
Drink(s): I am a water guy
Scent(s): Mrs. Sippel
Game(s): Everything Football
Sit-Down Restaurant(s): Native New Yorker
Fast Food Restaurant(s): Peter Piper Pizza
Place(s) to Receive a Gift Card: Buffalo Bills Store
Most used school/office supply: Yellow Pads of Paper
What I would really like is: A weekend in Florida
Heroes: My Uncle
Hobbies: Bowling