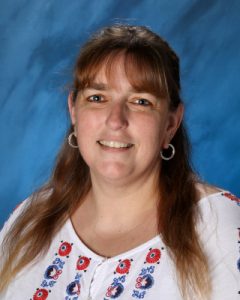 Christine GrayPower Campus Registrar
My Bio
Hello! My name is Ms. Christine and I am the Registrar here at San Tan Charter School. While I won't be sitting up at the front desk area this year I'm just down the hall and always just a phone call or email away!
My husband, Norman and I have been married for over twenty-two years, with two sons, Cameron, 16 and Ian, 10. I have also owned my own business for the past seven years selling designer rubber stamps. I have over 23 years of experience in print design and layout.  Our family is very involved with Scouting and ROTC. I am a Committee member for my Boy Scout Troop and a Booster Club parent for ROTC.  Ian is a Webelo this year in Cub Scouts and Cameron is a Life Scout in Boy Scouts and working toward his Eagle Rank. Cameron is also a member of Order of the Arrow and in ROTC at his high school with plans of joining the Air Force one day.  Scouting, community service projects and supporting our ROTC unit takes up a lot of our time.
We moved west to the sunshine of Arizona in 1999! While most of you are melting in the 100+ degrees I am loving every minute of the heat.  Our family likes to go to movies, eat out and my husband humors me and my bargain, thrift store shopping.  My husband drives trucks for the US Postal Service as well as being a writer for the shooting sports industry.
I am an avid reader and my tablet is usually attached to me where ever I go. I love Harry Potter, Hunger Games, Twilight and the Divergent Series. If I could relocate to some other era in time I would want to grow up as part of Earl Hamner's family. Don't know that name? He's the narrator of my favorite television series The Waltons. And if that wasn't an option, I could very easily be a happy addition to the Weasley family. While I will admit remembering names and faces isn't a strong point of mine, I will ask your name and your kiddo's name over and over again, please know that I love being a part of the STCS family and thank you for sharing your children with me when they walk through the front doors!
 —————————————————————————————-
These are A Few Of My Favorite Things…..
Color(s):  Lime Green
Flower(s):  Carnations / Gerber Daisies
Healthy Snack(s):  Black Olive Hummus / Pretzels / Cheese
"Junk Food" Treat(s):  Original Lays (yellow bag) / Brownies
Drink(s):  Coke Zero / Fresca Black Cherry Citrus
Scent(s):  Citrus
Game(s):  Scrabble / Backgammon
Sit-Down Restaurant(s):  Gecko Grill / Texas Roadhouse / Native New Yorker
Fast Food Restaurant(s):  Firehouse Subs / Jimmy Johns
Place(s) to Receive a Gift Card:  Amazon / Target / Goodwill
Most used school/office supply:  Sticky notes / Bright/Neon highlighters
What I would really like is:  To travel and take my sons on adventures
Heroes:  Military / Veterans / First Responders
Hobbies:  Cooking / Baking / Feeding People / Thrift Shopping