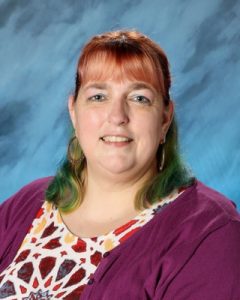 Christine GrayRegistrar
My Bio
Hello! My name is Ms. Christine and I am the Registrar here at San Tan Charter School Power Campus, as well as the School Coordinator for the Box Tops for Education program.  My office is always safe spot for kiddos & grown-ups that need a hug, a listening ear and even lunch if they've forgotten theirs.
I'm married, husband drives trucks for the US Postal Service and we have two sons, one in the United State Marines and the other is a Freshman in High School. And two dogs Jules, she rescued us, and Gibbs, my goofy Boxer spoiled baby.
Our family likes to go to movies, eat out and my husband humors me and my bargain, thrift store shopping.  
I am an avid reader and my tablet is usually attached to me wherever I go. I love Harry Potter, Hunger Games, Twilight and the Divergent Series. If I could relocate to some other era in time I would want to grow up as part of Earl Hamner's family. Don't know that name? He's the narrator of my favorite television series The Waltons and it was his family that the show was based upon. If that wasn't an option, I could very easily be a happy addition to the Weasley family. 
Cutting Box Tops while sitting in front of the tv is my mental down time. I enjoy the Food Network and always working on new recipes. I love my InstaPot and Air Fryer. When that's all reruns, I'm watching Greys Anatomy, NCIS, or any number of reality show – Survivor, Amazing Race, etc.
While I will admit remembering names and faces isn't a strong point of mine, I will ask your name and your kiddo's name over and over again, please know that I love being a part of the STCS family and thank you for sharing your children with me when they walk through the front doors!
These are A Few Of My Favorite Things…..
Color(s): Lime Green & Pink
Flower(s): Pink Carnations
Healthy Snack(s): Black Olive Hummus, Cucumbers & Pretzels
"Junk Food" Treat(s):  Lays (Yellow bag) Potato Chips or Brownies (no nuts)
Drink(s): Pepsi
Scent(s): Citrus
Family/Summer Activity: Cooking, Traveling, Reading & Movies
Game(s): Most online Facebook Games, Scrabble
Sit-Down Restaurant(s): Bobby-Q, O.H.S.O. & Native
Fast Food Restaurant(s): Firehouse Subs & Jimmy John's
Place(s) to Receive a Gift Card: Harkins, Amazon, Goodwill
Animal(s): Jules (Pitty/Boxer/Border Collie mix) & Gibbs (Boxer)
Most used school/office supply: note pads / sticky notes & clicky colorful pens
What I would really like is: Visit my son wherever he is stationed.
Heroes: My Marine son, Military, Veterans, First Responders 
Hobbies: Cooking, baking, reading, thrift shopping
I do not like mint, seafood, or tea.