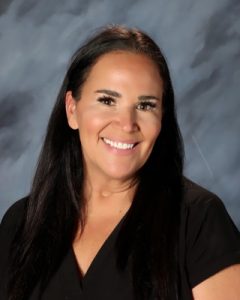 Lisa CordovaESS Teacher (K-6)
My Bio
Hello, my name is Lisa Cordova. I am so excited to join San Tan Charter. I will be teaching our ESS students at the Recker campus! I have been teaching Special Education for 13 wonderful years. I love seeing my students succeed and develop self confidence in academics and socially is very rewarding.
I have two wonderful young adult children. Matthew is 27 and is busy dad! He is running his own construction company and trying to keep up with his sweet little three-year-old boy Carter. My daughter Hailey is 23 and on her way to dental school to become an oral and maxillofacial surgeon. My little family is my world.
I studied and received my Montessori Teaching certificate from NAMC, Montessori. I continued my education at Arizona State University where I studied at the School of Social and Behavioral Sciences, interdisciplinary perspective across fields of SSBS and Cross Categorical K-12 Special Education.
In my free time I love spending time with my young adult kids and grandson. I am a lover for the beach, live music, bike rides along the beach, shopping, interior design, swimming, and spending time with all my close friends. I look forward to meeting all my new students and their families. I know we are going to have an amazing school year!
Birthday: April 24th
These are a few of my favorite things.....
Color(s): pink and black
Flower(s): Daisy, Roses, Hydrangea
Healthy Snack(s): Almonds, pistachios, Hummus, celery, cucumbers, popcorn
"Junk Food" Treat(s): Peanut M&M's, Kit Kat, tortilla chips, salsa
Drink(s): Vanilla Latte HOT with coconut milk, and REGULAR Coke.
Scent(s)/Essential Oil(s): No florals, musk, perfume, or food smells.   Mostly, fruit.
Game(s): UNO, Dice games.
Sit-Down Restaurant(s): The Sicilian Butcher
Fast Food Restaurant(s): Whataburger, Rosiata's. Panera
Place(s) to Receive a Gift Card: Hobby Lobby, Target, Nordstrom Rack. Amazon
Most used school/office supply: White cardstock, HP color ink, astro bright cardstock
What I would really like is: A pedicure and Nails 😊 I never take the time for myself like I wish I could do.
Heroes:  My late father, my two grown children
Hobbies: Shopping, interior design, beach time, being with my kids and friends.