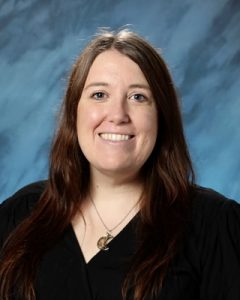 Megan HubbardMontessori Adolescent Teacher

Arizona State University
BA Psychology, MEd Learning Design and Technologies. NAMC Upper Elementary Teacher Certification
My Bio
Hello! My name is Megan Hubbard and this is my fifth year as a teacher at San Tan.  This will be my second year as Montessori Upper Elementary teacher, after spending previous  years as our Montessori Specials teacher.
I grew up in the Bay Area of California and then spent nearly a decade teaching preschool in Los Angeles, before moving to Gilbert six years ago.
I live with my husband of twelve years and two funny and adorable children, who both attend STCS in the Montessori program. We have two chihuahuas and a cranky old cat. When I am not teaching I love to garden, read, and explore all of the natural beauty of our desert environment.
Birthday: February 10th
These are a Few of My Favorite Things ....
Color(s): Silver, Gold, Grey
Flower(s): All flowers
Healthy Snack(s): Berries
"Junk Food" Treat(s): Dark Chocolate
Drink(s): Kombucha, Sparkling water, Iced coffee
Scent(s)/Essential Oil(s): Anything "fall" or "woodsy"
Game(s): I love all board games
Sit-Down Restaurant(s): Joe's Farm
Fast Food Restaurant(s): Starbucks, Salad and Go
Place(s) to Receive a Gift Card: Target, Michaels
Most used school/office supply: Anything crafty or for the garden
What I would really like is: Gardening and art supplies
Heroes: My Family
Hobbies: Reading, hiking, gardening, more reading!