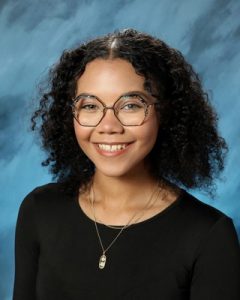 Talia PolkEnglish Teacher

Grand Canyon University
Bachelors in English for Secondary Education
My Bio
Hello! My name is Talia Polk. I attended GCU and am earning my Bachelor's degree in English. I am excited to work with students from 7th-9th this year. We will be learning cursive, reading novels, analyzing short stories and poems and more!  
I grew up in Mesa, AZ and have lived here since I was 8 years old. However, I was born in California and have traveled to many states in my life on the East coast. I plan to teach for many years here in Arizona due to the warm weather and found community.  
When I'm not teaching I like reading, going to concerts and shows, playing with my dog, and going to movies. I'm excited to get to know each student and family I have. Feel free to reach out to me any time and let's have a great year!  
Birthday: February 14th
These are a few of my favorite things.....
Color(s): yellow and pink
Flower(s): sunflowers
Healthy Snack(s): veggies, granola bars,
"Junk Food" Treat(s): brownies, cupcakes
Drink(s): vitamin water, chai tea
Scent(s)/Essential Oil(s): lavender
Game(s): Uno, Sudoku, Crosswords
Sit-Down Restaurant(s): The Mexicano, Texas Roadhouse
Fast Food Restaurant(s): Salad n Go, Chick Fil A, Freddy's
Place(s) to Receive a Gift Card: Target, Black Rock, Barnes and Nobel
Most used school/office supply: sticky notes, pens
What I would really like is: anything someone is willing to give :)
Heroes: personally, my mom is my hero, academically my hero is Maya Angelou, but my favorite super hero is Storm from X-Men
Hobbies: rollerskating, reading, concert going