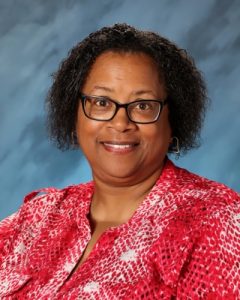 Crystal ClaytorSpecial Education Teacher 7th-12th

Ohio University, NAU-Yuma, Arizona Western, Grand Canyon, Rio Salado
BS of Special Ed k-12, Masters of Ed/Multicultural Studies, course certificates
My Bio
It is my opportunity to help students learn to find and use their resources to aid them in everyday living, create an atmosphere for positive experiences and leave a legacy that others will be able to bank on for the rest of their days and generations to come and hopefully to become productive citizens who give back to their communities.
One student WILL become President of the U.S., or speak to issues to take to the President (s) of all countries, another WILL win the Nobel Peace Prize, become that lawyer, chef, doctor, and yet another WILL top the music or athletic charts and so much more.   Some WILL become the writers of books, magazines, newspapers; leaders in Congress; or directors of those favorite T.V. shows we love to watch.  Surely, whatever each student chooses to do, his or her success will be passed from generation to generation; thus, will my ideas and dreams be fulfilled.
I started out my journey in the country and went to the big city.  I played clarinet in the band, and at one time the oboe and cello.  What I really wanted to play was the harp.  I went from concert band, to orchestra, onto marching band, then symphonic band and PEP band from grade school through college.  Started at college as a Music Therapist and changed to Special Education. I do not play instruments anymore, but I have a heart for music.
I have a B.S. in Special Education K-12, and MA in Ed/Multicultural Studies. I also have a Structured English Immersion K-12 Certification and a Care Giver's Certificate.
I wanted to be a nun, but gave that up at 10 years old because of my love for children.  I have two; three grandchildren from my son and my daughter has 12 god-children.  Started in Ohio and now I am in Arizona.  I have worked in Special Education for over 40 years Certified and 3 years before that uncertified while working on my degree, and look forward to a Prayer Chapel one day.
I love hot chocolate, hiking, fireplace, travel, making a snow man which haven't done since I moved to Az in 88, writing books, a good movie, sports, HGTV, live performances through the Arts, Survival & Nature shows, listening to good music, fine dining, and would love to climb mountains again one day to name a few things.  Took canoe training once and would love to learn to drive a small boat.
I have worked in residential homes (children), behavioral treatment centers (K-12), volunteered in mental health institutions (adults) and currently work with handicap adults as a Care-Giver on the weekends.  I have taught in incarcerated institutions (juveniles) and taught at all levels of school; High School, Junior High, and the Elementary Level. Currently at the 7-12th grade level.
I like making sure students and adults do the impossible, become confident and excel, and working with parents to help turn impossible situations around!  Empowerment!  I Love Life!
Birthday: May 18th
These are A Few Of My Favorite Things…..
Color(s):  Royal Blue, Lavender, Red, Apricot, Yellow
Flower(s): love yellow flowers (yellow Daffodil is pretty) love others too – happy thoughts with yellow
Healthy Snack(s):  cashews, lemon protein bars, organic apples, grape or watermelon licorice
"Junk Food" Treat(s): lemon bars from Rubio's, lemon filled donuts…, lemon cake, no lemon meringue pie unless its cream cheese topping, don't like meringue. Also, like sun butter cups from Trader Joe
Drink(s): Organic lemonade, alkaline water, green smoothies, banana/strawberry smoothies, hot chocolate and marshmallows
Scent(s)/Essential Oil(s): Lavender oil, vanilla/cinnamon mix candles
Game(s): Monopoly, Word games, Puzzles (scenic, oceans, nostalgic home winter scenes,)
Sit-Down Restaurant(s): Applebee's, Somburro's, Golden Corral, Olive Garden, Korea Town
Fast Food Restaurant(s): Veg. sandwich at Jimmy Johns, Fish sandwich at Culvers, ATL Wings-lemon pepper and/or sweet & tangy flavor, Pete's Fish and chips, Canes, Salad-n-Go, Boston Market's sweet potato casserole
Place(s) to Receive a Gift Card: Applebee's, Human Bean, Sprouts, Trader Joes
Most used school/office supply: sticky notes, black pens, Lysol wipes, postage stamps
What I would really like is: Gift Cards, Healthy Snacks, healthy fermented Drinks, yellow Flowers
Heroes: My heroes are those who make the necessary sacrifices to achieve their dreams and goals to benefit mankind! People of Faith!
Hobbies: I love listening to gospel Christian rap, plus good sound music upbeat, inspirational, calming,  watching relax daily (relaxdaily.net) YouTube, look forward to hiking again one day, maybe climbing mountains again one day, Adaptive Fitness, Reading, cultural events, plays, sporting events, love to do things no one thinks can be done to build hope, writing books, spiritually uplifting materials and events, supporting Children's organizations for hunger and various other needs and writing people.