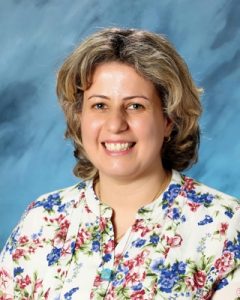 Sarah EdamMontessori Teacher (Kinder)

Southwest Institute of Montessori Studies
Child Development | Montessori Early Childhood Education
My Bio
Hello! My name is Sarah Edam. I was born and raised in Iraq. I graduated from the Teacher Training Institute in 2007 with a degree in Elementary Education. My husband and I moved to California in 2010. I studied and worked at Los Medanos College. I loved teaching young children. After moving to Arizona, I worked at San Tan Montessori preschool as a primary classroom teacher assistant. I fell in love with the Montessori method. Therefore, I attended Southwest Institute of Montessori Studies to learn about the Montessori method. This year, I will be an AMI certified teacher and I can not  wait to start a new adventure by exploring and learning with the children.
Couple years ago, my husband and I with our two kids moved out to Arizona and we loved this state since then.  I love being a wife, a mother, a teacher, a friend, and an Aunt. I spend my days teaching, planting, collecting cactus and succulent, cooking, baking, sewing, coloring, and making materials for the classroom.
Birthday: April 22
These are a few of my favorite things.....
Color(s): Blue
Flower(s): Sunflower
Healthy Snack(s): Luna bar (all the flavors)
"Junk Food" Treat(s): Pizza, and chocolate
Drink(s): Bubly sparkling water
Scent(s)/Essential Oil(s): Lemon grass and Eucalyptus
Game(s): Snake and Ladders Board Game
Sit-Down Restaurant(s): Café Zupas and Sauce Restaurant
Fast Food Restaurant(s): In N Out and Chipotle
Place(s) to Receive a Gift Card: Target, and Amazon
Most used school/office supply: pen, and dry erase markers
What I would really like is: Indoor plant, cactus or succulent
Heroes: My grandmother and my mother
Hobbies: Baking, cooking, sewing, and coloring