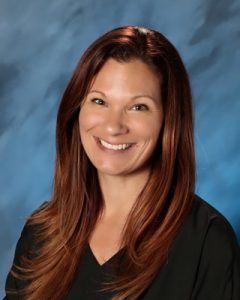 Michelle MyersMontessori 1st-3rd Grade Teacher

Grand Canyon University, AMI, NAMC
Bachelor of Science in Elementary Education k-8 with Reading Specialty in progress
My Bio
Hello! My name is Michelle Myers. Together my husband and I have 7 children ages 10,11, 14, 14, 17, 21 and 22. I homeschooled as we traveled the country from North Carolina all over. My children were able to live a true westward expansion experience as we traveled the country exploring several states.  We are happy to have found home here in Arizona.
My oldest child struggled to learn to read. I will never forget the day he read the first page of the book Harry Potter aloud to me. I always knew I wanted to be a teacher from the day I became a mom but that moment was a defining moment in my life. I developed a massive passion for reading and wanting to help other children who may struggle to be able to pick up a book a read. The freedom and joy that comes from being able to read independently is beautiful. I have a Bachelor's of Science in Elementary Education with an Emphasis in Reading from GCU, NAMC Lower Elementary Guide Certification and SIMS Montessori Assistant Certifications.
When I am not teaching, I enjoy reading, hiking, spending time with my family and dogs and driving my jeep to places of the beaten path. I am so thankful to be here and look forward to supporting children as they explore the world around them to learn skills that open the world.
Birthday: June 22nd
A Few of My Favorite Things...
Color(s): Blue
Flower(s): Lavender
Healthy Snack(s): yogurt
"Junk Food" Treat(s): chocolate
Drink(s): Tea
Scent(s)/Essential Oil(s): Lemon
Game(s): Pac-Man
Sit-Down Restaurant(s): Orient Sushi Grill
Fast Food Restaurant(s): Chipotle
Place(s) to Receive a Gift Card: Amazon, Target
Most used school/office supply: Pilot Frixion Erasable Pens
What I would really like is: bookmarks
Heroes: My dad
Hobbies: Reading, Hiking, Jeeping, Spending time with my family and dogs