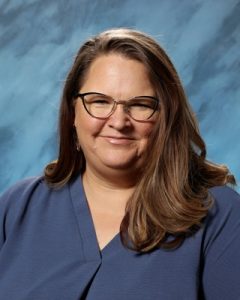 Shannon YocklinGifted 4th Grade Teacher

Ottawa University
BA in Elementary Education
My Bio
Hello! My name is Shannon Yocklin and I am thrilled to be teaching 4th grade here at San Tan Charter. I have a wonderful husband and two boys that helped inspire me to pursue a degree in education.
I grew up in North Phoenix and attended Ottawa University where I earned a Bachelor of Arts degree in Elementary Education. I started teaching in the Paradise Valley School District and then moved to Colorado for a few years. After deciding that I was more sun than snow, I moved back to the East Valley several years ago. I started my teaching career in fourth grade and accepted opportunities to teach 3rd, 2nd and 1st grades along the way. Teaching primary has taught me so much about the process of learning, and I am so excited to be back in upper elementary!  I love teaching because I love to find ways to encourage a love of learning and find teachable moments every day! I love to have fun and laugh in the classroom while encouraging students to set goals and challenge themselves.
When I'm not teaching, I enjoy hanging out with friends and family, creating art, playing video games with my kiddos, reading and baking. I'm so very excited to meet and get to know my new students and their families. I'm confident that we will have an amazing and successful year!
Birthday:  September 5
These are a Few of my Favorite Things ........
Color(s):    sage / dusty greens
Flower(s):  gerbera daisies, violet plants
Healthy Snack(s): berries
"Junk Food" Treat(s):  m&m's, chocolate chip cookies
Drink(s):  Black Rock iced caramel blondie, iced tea, Dr. Pepper
Scent(s)/Essential Oil(s):  cinnamon   Essential Oil: citrus
Game(s):  Uno, Jenga
Sit-Down Restaurant(s): On the Border, Mod
Fast Food Restaurant(s):  Someburro's, SmashBurger, Sonic, Wendy's
Place(s) to Receive a Gift Card: Amazon, Target, Black Rock , Hobby Lobby
Most used school/office supply:   flair or gel pens, cardstock
What I would really like is:  Amazon gift card
Heroes: Mother Theresa, my grandmother
Hobbies:  drawing, art, plants/succulents