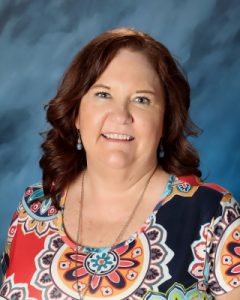 Carol BerhostMontessori 1st-3rd Grade Teacher

Colorado Northwestern Community College
Associate of Arts Degree, Liberal Arts
My Bio
This will be my sixth year at San Tan.  I spent four years as an Assistant in the Lower Elementary class with Ms. DeWyke, and this last year as a co-teacher with Ms. Hinch.   I look forward to having my own classroom this year, with Ms. Hatch as my assistant.
I have three boys, and this is our 10th year as a STCS family.  My boys will be in 5th grade, 6th grade, and my oldest just graduated. When they were younger, I spent countless hours volunteering at our school. Prior to having children, I worked in the corporate world for many years, most recently as a Corporate Training Manager.  However, my dream was always to be a teacher.  I love interacting with and building relationships with children.  I have a gift for helping children find their talents and building in them the confidence to pursue those talents.
I recently completed my Lower Elementary certification through North American Montessori Center and look forward to implementing what I learned in my own classroom.  I grew up in a small town in Southwestern Colorado and while I do miss the mountains and seasons, I appreciate the beauty of the Arizona desert and sunsets.  My favorite things to do are spending time with my boys, camping, fishing, reading, baking and taking road trips.
Birthday: July 9th
These are A Few Of My Favorite Things…..
Color(s): yellow like a dandelion
Flower(s): dandelions….I'm not really a flower person
Healthy Snack(s): watermelon, pineapple, popcorn
"Junk Food" Treat(s): Bosa doughnuts, chocolate, The Coffee Shop cupcakes!
Drink(s): Skinny Caramel Macchiatto, Green Tea frappucino, Diet Coke
Scent(s)/Essential Oil(s): DoTerra Balance and Citrus Bliss
Game(s): Jenga, Sequence, Card Games
Sit-Down Restaurant(s): Oregano's, The Coffee Shop, Le Madelaine
Fast Food Restaurant(s): Salad n Go, Chick-Fil-A
Place(s) to Receive a Gift Card: Starbucks, Target, Amazon
Most used school/office supply: Sharpies, Post it Notes
What I would really like is: a note from your child
Heroes: teachers! My Grandma
Hobbies: baking, reading, camping, road trips