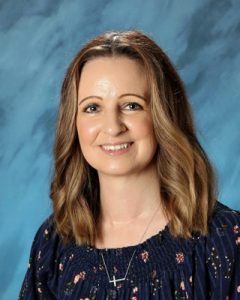 Melinda HatchMontessori Assistant (1st - 3rd)

Primary Assistant Training Certificate
My Bio
This is going to be my 6th year here at San Tan as a Montessori Assistant.  I started out in Preschool classroom and moved my way to Lower Elementary which will be my 4th year in our Saguaro classroom. During those times, I have received my Assistant certifications for Primary and Lower Elementary. I have a son who has been a Roadrunner since 3rd grade. He will be in the 8th grade.
I have been in Montessori Education since he was a toddler. Previously, I have been an assistant in other Montessori schools working with toddlers and Primary for 8 years helping them grow independently in a prepared learning environment.
I grew up in Midwest City, OK but later decided to move out to Arizona for new adventures and met my husband. I immediately fell in love with the beautiful sunsets and the mountains!  Moving out here was when I took an interest in Montessori Philosophy while learning it from my sister-in-law.
I love being around kids and am passionate about learning. I strive to model respect, patience, and care for both children and adults I come in contact with.
Birthday: November 22nd
These are a few of my favorite things.....
Color(s): Red
Flower(s): Lavender, Snake Plant, Succulents
Healthy Snack(s): Popcorn, Hummus with veggies, granola bars
"Junk Food" Treat(s): Anything Dark Chocolate
Drink(s): Dutch Bros Palm Beach Lemonade, Starbucks Strawberry Creme Frappuccino with coconut milk, Starbucks Mint Majesty Herbal Tea
Scent(s)/Essential Oil(s): DoTerra Breathe and OnGuard, Fall Scents
Game(s): Yahtzee and puzzles with the family
Sit-Down Restaurant(s): Downtown Gilbert Restaurants, Pita Jungle, Joe's Farm Grill
Fast Food Restaurant(s): Chick-Fil-A, Five Guys
Place(s) to Receive a Gift Card: Target, Home Goods, Amazon, Hobby Lobby
Most used school/office supply: Post-It-Notes, pens
What I would really like is: For kindness and for people to love one another.
Heroes: Jesus, my parents.
Hobbies: baking, traveling, home diy projects, watching baseball, and shopping