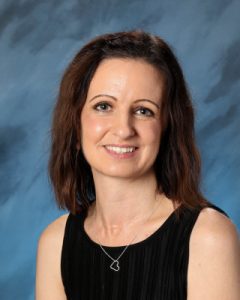 Melinda HatchMontessori Assistant (1st - 3rd)
My Bio
Hi! My name is Melinda Hatch and I'm very excited to be part of another amazing year in the San Tan community! This is going to be my 3rd year here as an Assistant in our Montessori classrooms.  My son will be going to the 5th grade. I have been in the Montessori Education since my son was a toddler. Previously I have been an assistant in other Montessori schools working with toddlers and primary for 6 years helping them grow independently in a prepared learning environment. 
I grew up in Midwest City, OK but later decided to move out to Arizona for new adventures. I immediately fell in love with all the beautiful sunshine, sunsets, and mountains! Moving out here was when I took interest in the Montessori Philosophy, and immediately fell in love with it while learning from my sister-in-law.
I love being around kids and am passionate about learning.  I strive to model respect, patience, and care for both children and adults I come in contact with.
When I'm not working, I enjoy spending time with my family, going to baseball games, shopping, baking/cooking, diy home projects, and traveling. 
Birthday: November 22nd
--- My Favorite Things ---
Color(s): Red
Flower(s):  Allergic to flowers but like plants: Lavender, Aloe Vera, Spider Plant, Fern
Healthy Snack(s): Fruit, Hummus with veggies, granola bars
"Junk Food" Treat(s): Anything Dark Chocolate
Drink(s): Herbal Teas (caffeine free), Sodalicious (Pixie), and Moscato Wine
Scent(s)/Essential Oil(s): DoTerra Breathe and OnGuard, cookies in the oven, Fall Scents and Cinnamon.
Game(s): Yahtzee and puzzles with the family
Sit-Down Restaurant(s): Downtown Gilbert Restaurants , Kona Grill, and Grimaldi's
Fast Food Restaurant(s): Chick-Fil-A, Chipotle,
Place(s) to Receive a Gift Card: Target, Home Goods, Amazon, Hobby Lobby
Most used school/office supply: Post-It-Notes, pens
What I would really like is:  For kindness and for people to love one another.
Heroes: Jesus, my parents.
Hobbies: baking, traveling, home diy projects, watching baseball, and shopping