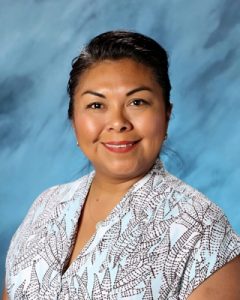 Kim AguilarMontessori Teacher (Kinder)

National Center for Montessori Education
Montessori Early Childhood Education
My Bio
Hello, my name is Kim Aguilar and I am extremely excited to start my 4th year as the San Tan Montessori, Montessori Kindergarten Lead Teacher.
I grew up on an indigenous land of San Felipe Pueblo in New Mexico. I miss the four seasons and my cultural heritage. I moved to Phoenix, Arizona 20 years ago with my husband Andy, who is British, and our daughter Victoria, who is now 26 years old and an ASU graduate! We have one dog who is treated like the baby of the house, and he is kept in good hands. I enjoy scrapbooking, jewelry crafting, and our family enjoys another passion…traveling! We have been to Belize, Cozumel, Peru, Scotland, Ireland and England. Our last travels were to Alaska.
It is my mission to instill the love of learning in my students and develop their desire to become life-long learners. I feel very lucky and grateful to have had the opportunity to grow as a teacher these past 22 years and look forward to continue learning from my students and become a better teacher with each passing school year, here at San Tan Charter School.
Birthday: January 2
These are a few of my favorite things.....
Color(s): Yellow
Flower(s): Sunflowers
Healthy Snack(s): pickles, popcorn, and cliff bars

"Junk Food" Treat(s): oatmeal cookies
Drink(s): Chi Latte and Spindrift
Scent(s)/Essential Oil(s): Eucalyptus and Tea Tree
Game(s): Rummikub
Sit-Down Restaurant(s): Olive Garden, Pita Jungle, and Texas Road House
Fast Food Restaurant(s): Zupas and Chipotle
Place(s) to Receive a Gift Card: Amazon, Target, and Starbucks
Most used school/office supply: Erasable gel pens, dry erase markers
What I would really like is: plants for my classroom
Heroes: My mother
Hobbies: Making jewelry, scrapbook, and painting