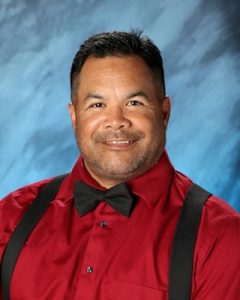 Jimmy RayMath Teacher/Head Golf Coach

Northern Arizona University
Masters of Ed Curriculum and Instruction and Administration
My Bio
Hello, my name is Jimmy Ray and I'm excited to be part of the San Tan Charter School family.  This year I will be starting my 28th school year as a mathematics teacher.  I enjoy helping students utilize their problem-solving skills and find enjoyment while doing so.
I graduated from Arizona State University in 1996 with a Bachelor's degree in elementary education with a math specialization.  I went back to school to complete my Masters' degree through Northern Arizona University.  I have taught several levels of math throughout my career from junior high math to college algebra.  I especially enjoy algebra classes.
When I am not teaching I am coaching football and golf, playing golf, or hanging out with friends at Augusta Ranch Golf Club.  I am also the self-proclaimed World's Greatest dance dad watching my young daughter Hayden age 15 compete.  My oldest daughter, Felicia age 23, is a combat medic in the U.S. Army. She has deployed to South Korea and is stationed at Ft. Hood in Texas.
Birthday: 9/26
These are A Few Of My Favorite Things…..
Color(s): Black
Healthy Snack(s): fruit
"Junk Food" Treat(s): sour patch kids
Drink(s): Dr. Pepper
Scent(s)/Essential Oil(s): lavender
Game(s): LCR
Sit-Down Restaurant(s): Wings Express
Fast Food Restaurant(s): Jack in the Box
Place(s) to Receive a Gift Card: Walmart
Most used school/office supply: dry erase markers
What I would really like is: chicken wings
Heroes: Superman
Hobbies: golf