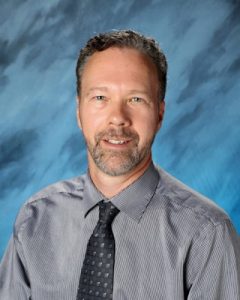 Christopher NewtonScience Teacher

Berea College
BS Technology Management
My Bio
Although Chris was originally a native of Phoenix, Chris' father served in the Army so he has lived in many places foreign and domestic. Chris is married to his college sweetheart Leah.  Both Chris and Leah serve as teachers. They have been married for over 20 years and have 3 sons (Isaiah, Elijah, and Caleb). After marrying while in college, they spent the next 14 years serving on the east coast, primarily in Kentucky and Tennessee. The past 10 years they have served in various education and ministry roles here in Arizona.
Chris has a BS in Industrial Arts and Technology Management from Berea College in Berea, KY.  He has also completed a degree at the former Life School of Ministry in Nashville, TN.  He has taught 7th-12th grade physical science, chemistry, biology, algebra and geometry over the past 20 years.
Birthday: February 18th
These are A Few Of My Favorite Things…..
Color(s): Blue
Healthy Snack(s): Granola
"Junk Food" Treat(s): Snickers
Drink(s): Coke
Sit-Down Restaurant(s): Oregano's
Fast Food Restaurant(s): Cane's
Place(s) to Receive a Gift Card: Harkins
Most used school/office supply: colored pencils, tape, paper towels, modeling clay,
What I would really like is: Bitcoin
Heroes: Jesus
Hobbies: Off-roading, travel, saxophone