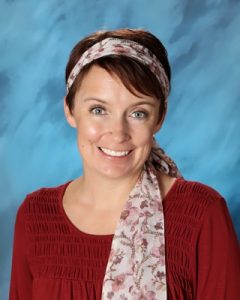 Amber KovachEnglish Teacher

Montana State University-Billings; Boise State University
Bachelor of Science Degree - Liberal Studies; Bachelor of Arts Degree- English (Writing Emphasis); Master of Arts Degree- English (Literature emphasis)
My Bio
Hello! My name is Amber Kovach and this will be my sixth year of teaching English at STCS.
My son, Connor will be a sophomore this year and my daughter, Chloe will be a freshman. I'm still in denial about the whole thing, really.
I grew up in Havre, Montana- a small town located just a few hours south of the Canadian border. It was cold…all the time. After graduating high school, I moved to Billings, Montana where I attended Montana State University and earned my Bachelor of Science Degree in Liberal Studies. Somewhere in the middle of all that I met and married my then husband and had our first kiddo. After graduating, I became a stay at home mom and 18 months later we had our second child. Being a mom is great, but I was never meant to stay at home. I knew I wanted to be in a classroom teaching and began looking at options at Montana State. Changes happened to our family during the recession so we took a gamble and moved to Idaho.
One year later I was enrolled at Boise State University with hopes of becoming an English teacher. Life flew by after that. I earned my second Bachelor's Degree in English-Writing and continued to earn my Master's Degree in English-Literature. I stayed on at Boise State and taught First Year Writing in their English Department as an Adjunct Instructor. We wanted and needed something more permanent. I was tired of the cold and ready for a change, so I began looking for jobs in Arizona. It wasn't long after that I was offered a full-time teaching position at Grand Canyon University in their online English Department. After a year and finally settled I realized I missed the liveliness of the classroom so I began my search for something more fitting. San Tan soon became the answer. It feels amazing to be back in the classroom.
Outside the classroom I enjoy reading, paddle boarding, hiking, biking, playing video games, baking and walking my dog. I am not a person who sits still, so I try to keep my family on their toes and active.
San Tan is known for its rigor and excellence and I enjoy implementing this in my classroom in a variety of ways. If students are not reading and writing on a daily basis, then I am not doing my job. This High School is so amazing and has such great potential and I am lucky to be a part of this family.
Birthday: September 7th
These are A Few Of My Favorite Things…..
Color(s): Purple and Turquoise
Flower(s): Daisies, Sunflowers
Healthy Snack(s): Fruit, Cheese, Popcorners (Sea Salt)
"Junk Food" Treat(s): Starbursts, Sour Patch Kids
Drink(s): Iced Chai w/Vanilla Sweet Cream Foam
Scent(s)/Essential Oil(s): Lavender and Peppermint
Game(s): Football, Basketball, Baseball, Tennis, Golf, Soccer....I guess most of them really.
Sit-Down Restaurant(s): Any Pizza joint, Picazzo's Italian, SunnySide Breakfast Lounge
Fast Food Restaurant(s): Venezia's
Place(s) to Receive a Gift Card: Target, Barnes & Noble, Starbucks, and Amazon
Most used school/office supply: Paper Flair Pens, and Sharpies
What I would really like is: More books for my in-class library
Heroes: Scooby-Doo, Mother Nature, and, of course, my mom
Hobbies: Reading, Playing with my dog, Paddle boarding, and Gardening