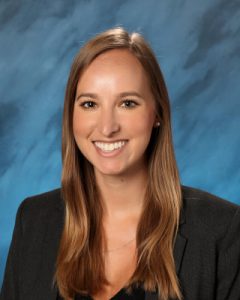 Sydney BurdenoDirector, Projects and Development / Human Resources

Chapman University
MA Marriage and Family Therapy
My Bio
Hi, my name is Sydney and I am the Administrative Assistant at the Recker Campus.  I have been working in the education field for over 5 years in various capacities ranging from working with children in kindergarten, to academic advising for college students.
I am very excited to be joining the San Tan community this year and love the positivity that surrounds me daily.
I moved with my husband to Arizona about 2 ½ years ago and have loved exploring this state.  We have a dog and a cat who are the best of friends, and imagine we will grow our family outside of fur babies within the next few years.  We look forward to the day our kiddos become a part of the San Tan family as well and experience the joy I do each day!
Birthday: July 7
These are A Few Of My Favorite Things…..
Color(s): Yellow
Flower(s): Sunflower, Daisies 
Healthy Snack(s): Nut Thins and Hummus 
"Junk Food" Treat(s): Salt and Vinegar chips 
Drink(s): Unsweetened Iced Tea
Scent(s)/Essential Oil(s): Lavender, Eucalyptus, Peppermint 
Game(s): Rummikub 
Sit-Down Restaurant(s): Buffalo Wild Wings 
Fast Food Restaurant(s): In n Out, Taco Bell 
Place(s) to Receive a Gift Card: Amazon, Target 
Most used school/office supply: Post Its 
What I would really like is: Candles, gift cards, anything cooking related 
Heroes: My mother 
Hobbies: Camping, Reading, going to the river