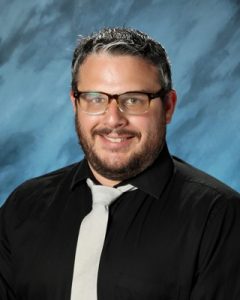 Peter DudekSocial Studies Teacher/Head Boys Volleyball Coach

Clarke University
Bachelor of Arts
My Bio
Hi, my name is Pete Dudek! I am a husband to my wife Amanda and father of four: two daughters; my six-year-old Myla and three-year-old Raelynn; and my sons: Peter John who is nine and Theodore who will be one in June.
I teach Sports Broadcasting, History and Film Studies. I am a coach at heart and love teaching athletes the skills to find success in sports, the classroom, and life. There is no better feeling than watching students grow as global citizens, finding intrinsic motivation and finding joy in the process as well as the accomplishments.
When I am not teaching I enjoy playing with my children, spending time with friends and family, coaching and playing volleyball, working out, binge watching TV with the wife, and working on house projects. I'm also a cine and audiophile; collecting records is one of my favorite things.
Birthday: January 28th
These are A Few Of My Favorite Things…..
Color(s): Blues and Greens
Flower(s): Orchids and Tulips
Healthy Snack(s): Protein Shakes
"Junk Food" Treat(s): beef snacks
Drink(s): Coffee, Pepsi Nitro, Coffee,
Scent(s)/Essential Oil(s): Sandalwood & Leather
Game(s): Fallout New Vegas, Rummikub, Crosswords, PC Games
Sit-Down Restaurant(s): Rancho Del Tia Rosa, Kodo Sushi Sake
Fast Food Restaurant(s): Jack in the Box, Sonic, Taco Bell
Place(s) to Receive a Gift Card: Amazon, AMC, Ziggis & Black Rifle Coffee
Most used school/office supply: Pens, Dry Erasers, Dry Erase Markers
What I would really like is: A '90s Japanese sports car.
Heroes: Theodore Roosevelt, Ron Swanson, Al Bundy
Hobbies: Volleyball, model building, woodworking, PC gaming, the outdoors