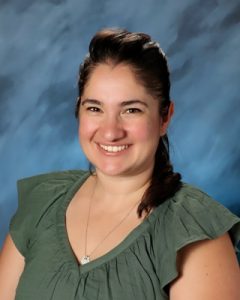 Natassia DeWykeLower Elementary Montessori Teacher

The University of Arizona, Khalsa Montessori Teacher Education Program
BFA: Photography, AMS Montessori Early Childhood Certification, AMS Montessori Elementary I Certification
My Bio
Hello!
My name is Natassia DeWyke and I am thrilled to embark on my eighth year at San Tan as a Montessori Lower Elementary Lead Guide!
Growing up an Air Force brat, I had the opportunity to travel the world and experience great culture, food, and art. This inspired my passion for photography, which led me to The University of Arizona where I attained my BFA in Photography in 2007. An itch in my heart guided me toward Montessori in 2014, which in turn led me to the Khalsa Montessori Teacher Education Program where I earned my Montessori Early Childhood Education and Elementary I certifications from the American Montessori Society.
I have had the privilege to be part of San Tan's Montessori Elementary program for the past eight years, starting from just one classroom and growing to seven! During this time I have also served as the Montessori team lead, Academic Content Specialist, and a member of the Marigold Committee. Montessori is not only a passion for me as an educator, but as a mother as well. I am fortunate to watch my own children experience the gift of this beautiful method alongside me and with the support of my incredible husband.
When not teaching, I enjoy spending time with my family, growing our homestead, camping, practicing yoga, brunching, photography, baking, traveling, hand lettering, exploring local coffee shops, and embroidery/cross stitch/quilting!
Birthday: January 17
My primary appreciation language is: hugs, coffee, and dark chocolate!
A Few of My Favorite Things
Color(s): yellow
Flower(s): sunflowers and dahlias
Healthy Snack(s): honeycrisp apples, Rainier cherries, cucumbers
"Junk Food" Treat(s): Bosa doughnuts, Rise Up Bakery pastries, anything dark chocolate!
Drink(s): iced Americano (splash of 1/2 & 1/2), iced unsweetened green tea, Olipop fruit punch
Scent(s)/Essential Oil(s): coffee, citrus, natural scents (sensitive to artificial scents/additives)
Game(s): Speak Out, Uno
Sit-Down Restaurant(s): Cibo, Sauce, The Coffee Shop, The Olive Mill
Fast Food Restaurant(s): Salad 'n Go
Place(s) to Receive a Gift Card: Steadfast Coffee, Gill's, Peixoto, Joann, Target, amazon
Most used school/office supply: binder clips, sticky notes, Sharpies, fine point pens
Things I collect: plants!
Heroes: my abuelito--Miguel Angel Capella
Hobbies: photography, baking, quilting/embroidery/cross-stitch, yoga, travelling, brunching