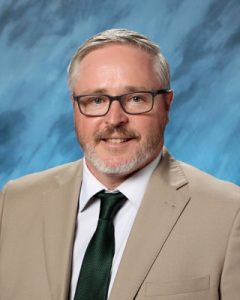 Brandon TauscherPower Campus Principal

Arizona State/Northern Arizona
Master of Education - Educational Leadership; Master of Arts - English
My Bio
Brandon Tauscher begins his third year as Principal at the Power Campus and is now working in his 9th year in school administration. Starting his work with Teach For America, whose mission is to "enlist, develop and mobilize our nation's most promising future leaders to grow and strengthen the movement for educational equity and excellence", Mr. Tauscher has had positive impacts in the communities he served. His educational background includes two master's degrees—one in Educational Leadership from ASU and a master's in English from Northern Arizona University.
Mr. Tauscher's work at San Tan Charter has included growing the school's junior high and high school enrollment by more than 50 students while assisting in the school's 20-year Charter School renewal and International School Accreditation through Cognia. His sustained focus on academics has resulted in the school's highest academic achievement since the school started tracking MAP Testing in 2008. In addition to academics, Mr. Tauscher has helped lead the way in the school's successful athletics transition from the Canyon Athletic Association (CAA) to the Arizona Interscholastic Association (AIA) and continues the school's progress made in Gifted Education and the Arts.
In addition to working in schools, Mr. Tauscher has worked as a non-profit leader and also in higher education, working in community outreach and public relations in the non-profit sector in addition to teaching and founding a professional education journal and serving on committees to write educational law in Washington State. Outside of school, Mr. Tauscher is continuing his Faith formation in the Catholic Church and is currently involved in the Tepeyac Leadership Initiative, and international group of Catholic lay professionals engaging in society as civic leaders.
He is married to his wife, Lauren, who is an educational leader for Phoenix Union High School District and the couple is the parents of four boys: Peter, Lewis, Andy, and Henry. The Tauscher family stays active in youth sports and enjoys traveling and visiting with friends and family on both the East and West Coast.
Raised in a small community in the Pacific Northwest, Mr. Tauscher believes that his background and systems thinking approach he learned on his family's working tree farm also works well in education: "Actions affect each part of the system. Just like sound forestry practices play out economically and socially within a family and community, when high standards in education meets the multiple needs of students, we find balance and can build something that lasts".
Birthday: September 27
These are A Few Of My Favorite Things.....
Color(s): Blue & Green
Flower(s): Wildflowers
Healthy Snack(s): Fruits
"Junk Food" Treat(s): Gameday (football) foods
Drink(s): Coffee
Game(s): Card games
Sit-Down Restaurant(s): Gastropubs
Fast Food Restaurant(s): In & Out
Most used school/office supply: Sticky notes
What I would really like is: Spending time with Family and Friends
Heroes: Grandfather
Hobbies: Outdoors / Camping / Concerts / NFL Football