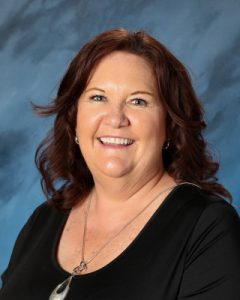 Carol BerhostMontessori 1st-3rd Grade Assistant

Colorado Northwestern Community College
Associate of Arts Degree, Liberal Arts
My Bio
My name is Carol Berhost and I am the Assistant in the Montessori 1st – 3rd grade classroom, assisting the amazing Ms. DeWyke.  My boys have been students here for seven years. They are in 10th, 3rd and 2nd grade this year.  I have spent countless hours volunteering at our school and love the STCS community and family. 
I worked in the corporate world for many years before having children.  I come from a small town in Colorado and sorely miss the mountains.  I do appreciate the beauty of the Arizona desert and its gorgeous sunsets.  My favorite things to do are playing and laughing with my boys, spending time with my nieces and friends, camping, baking, reading and taking road trips.  My family fosters pugs and I volunteer with Arizona Pug Adoption and Rescue Network (APARN).   I am so looking forward to spending my days with the amazing students and staff here at San Tan. 
Birthday: July 9th
These are A Few Of My Favorite Things…..
Color(s): yellow like a dandelion
Flower(s): dandelions….I'm not really a flower person
Healthy Snack(s): watermelon, pineapple, popcorn
"Junk Food" Treat(s): Bosa doughnuts, chocolate, The Coffee Shop cupcakes!
Drink(s): Skinny Caramel Macchiato, Green Tea frappucino, Diet Coke
Scent(s)/Essential Oil(s): DoTerra Balance and Citrus Bliss
Game(s): Jenga, Sequence, Card Games
Sit-Down Restaurant(s): Oregano's, The Coffee Shop, Le Madelaine
Fast Food Restaurant(s): Salad n Go, Chick-Fil-A
Place(s) to Receive a Gift Card: Starbucks, Target, Amazon
Most used school/office supply: Sharpies, Post it Notes
What I would really like is: a note from your child
Heroes: teachers! My Grandma
Hobbies: baking, reading, camping, road trips