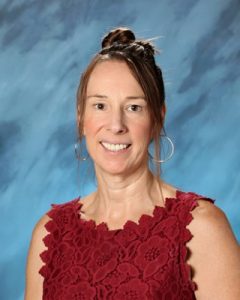 Barbara CowledGifted 6th Grade Math & Science Teacher

Arizona State University
B.S. Marketing
My Bio
Hello Roadrunners! I am Mrs. Cowled. I live in Gilbert, have 2 amazing sons, and 3 very large dogs (two boxers and a mastiff mix). I am so excited to have the opportunity to work with your children. I have always had a love for mathematics- some people call that crazy, but that is okay by me. I was born and raised in Michigan and am a diehard Michigan Wolverine fan. I began my college career in Secondary Ed, Mathematics. I came out to Arizona for spring break for vacation, climbed Camelback, fell in love with the weather, and moved out here shortly thereafter. I finished up at ASU and received my Bachelor of Science in Marketing.
I went into teaching into 2002 until I had my oldest son and decided to stay home to raise my children. I started a business in 2007 and ran it until 2018 when my youngest son told me I needed to do what I loved. He was correct so I came back to teaching. I am so happy my 12-year-old was able to teach me an important life lesson. I feel that every person, especially kids, have something to teach us throughout our lives and hopefully I can teach them a few things along the way!
Birthday: September 19th
These are a few of my favorite things.....
Color(s): Purple, pink and greens
Flower(s): Sunflowers
Healthy Snack(s): Popcorn, fruits
"Junk Food" Treat(s): Salt n vinegar chips, cheese plates
Drink(s): Iced Dutch Bro's sugar free strawberry and lavender energy
Scent(s)/Essential Oil(s): Lavender, citrus
Game(s): Left, Right, Center/Uno/Scrabble
Sit-Down Restaurant(s): Keg, SALT, Red Robin
Fast Food Restaurant(s): Wing Stop
Place(s) to Receive a Gift Card: Amazon,
Most used school/office supply: Expo markers/erasures
What I would really like is:
Heroes: My father and my G.O.A.T husband
Hobbies: cycling, weight lifting, swimming