Laramie Letters 1/26
Letter from the Principal
Dear San Tan Families,
I hope you are having a great week! I do want to keep you all apprised of some transitions you will see within the coming months. I am expecting my second daughter at the beginning of March. The current plan is that I will be at work until March conferences and then I will be out on maternity leave for a few weeks through the fourth semester. I am planning on returning back to work the last week of school and will be on campus for May conferences. During my time away, Dr. Sippel will be filling in at the Recker Campus to handle the day to day operations. I have every confidence that the students will really enjoy having him there! Please let me know if you have any questions or concerns or want to get on my calendar ahead of my leave. Thank you all for your wonderful support!
Enrollment season is upon us! We are already about 85% full for next year, so please reenroll to save your student's spot for next year by clicking on the Parent Portal Enrollment Link.
– Mrs. Sarah Laramie
Important Announcements 
Half Day on 1/27
Need child care? Please click on the following link to sign up
Parent Half Day Camp Link – for Wed. Jan 27th ONLY:  Half Day Camp Registration – Jan. 27th
K-4 Learning Celebration
For our K-4 Learning Celebration coming up, we have decided that due to the potential for added exposure, we will have our Learning Celebration online rather than in person. Teachers will work with their classes to film students presenting their learning celebration projects. A link to this password protected video will be sent home to families on Friday, February 5th. Thank you for your understanding about this. We have really been making sure that we are making responsible decisions during this historic time.
5-6 STEM Festival
On February 5th, STEM competitions will be held at school and streamed live for parents to watch. Students will report to the back field in small groups to compete with their STEM builds. Awards will be handed out at the festival.
8:30 am – Junior High @ Power Campus
10:30 am – High School @ Power Campus
1:30 pm – 5-6th Grade @ Recker Campus
District Science Fair
The District Science Fair will be held virtually, winners will move on to the Arizona State Science Fair. Judges will interview students virtual through Google Meets with a teacher monitoring. Awards will be streamed live (date to be determined).
We Need Your Help! We are in need of volunteers to assist us in judging science fair projects!  Judges will assess
Teachers will monitor the Google Meets and manage the student presentations, no stress for the judges! : -)
Interested?  Excellent!   You can sign up here: Volunteer Judge Sign Up
Enrollment
Current family enrollment is going on right now!! Please take the following steps to save your student's spot for the 2021-2022. Parent Portal Enrollment Link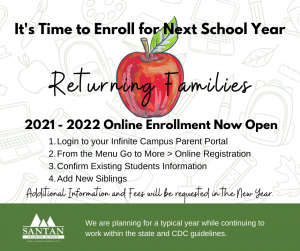 Helpful Links
Donate Today! – Arizona Tax Credit Form
Become an Athletic Sponsor- Click Here to Donate
Spirit Gear – Do you need school spirit gear to wear on Spirit Fridays? Click Here to Purchase
Yearbooks 
Donor's Choose
Dates to Remember 
1/27- Half Day School
2/5- STEMFest
2/5- K-4 Learning Celebration
2/8-2/12- AZELLA Testing
2/9- Math Olympiad
2/10- Spring Pictures
2/15- No School for President's Day
2/17– Fire Drill
2/22-2/26- Gifted Testing
2/24- Half Day
3/3-3/3/5 Half Days
3/3-3/5 March Conferences
3/8-3/16 Spring Break
Athletic Dates to Remember 
Mrs. Sarah Laramie, M.A.  
Principal, Recker Campus
Doctoral Candidate, Grand Canyon University
San Tan Charter School
3959 E. Elliot Rd.
Gilbert, AZ 85234
Phone:  480-222-0811