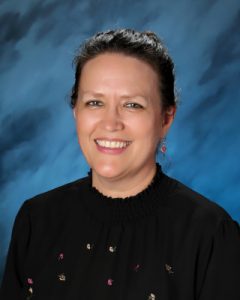 Stefany D Gustafson5th Grade Math and Science

Brigham Young University and University of Phoenix
B.S. in Elementary Education K-8
My Bio
Hello, my name is Stefany Gustafson.   I am the 5th grade math and science teacher here at San Tan Learning Center.
This is the start of my 10th year here at San Tan Learning Center.  I came to the family on a crisp January day, half way through the year as the 6th/7th/8th teacher.  I loved it and moved into 5th grade the following year.  I taught 5th grade for 7 years and then moved to Jr. High Math at the Power Campus.  I taught that for 3 years and loved the challenge and the students!  But I am headed back to 5th grade which is "my place."  
I am a native Arizonian.  I grew up in the White Mountains, on a true cattle ranch.   After graduating from high school, I attended Brigham Young University, where I majored in musical theater and public speaking.   One year short of finishing school, my husband and I moved to California and I became a mom.  I worked in real estate and taught piano lessons from my home for many years while my kids were little.  I went back to school 11 years ago and received my Bachelors of Science in Elementary Education.  I have been a long term substitute in the Gilbert school district, Intermediate Resource aide,  6th-8th teacher at San Tan Learning Center and 5th grade teacher and Jr. High math.   I love my students and teaching.
My husband and I have been married 32 years and have 6 amazing biological children and 3 wonderful, married into the family children.  I love being their mother!   My husband is a high school math teacher, a wrestling coach and a super dad.  We spent our first 11 years of marriage in Los Gatos, California then we made the move to Arizona, we miss hanging out at the beach and the weather; but love Arizona.  In the few moments I have to myself I love playing the piano, singing, board games, reading, chilling with family, hiking, and a really good nap.  
When the conditions for surfing are perfect, surfers call out to each other, "surf's up."  In my classroom that is the goal; to make conditions perfect for learning! 
These are a Few of my Favorite Things ........
Color(s):  Red, Purple, and grey
Flower(s):  Roses and tulips
Healthy Snack(s):  Fruit
"Junk Food" Treat(s): Salt and Vinegar chips, anything chocolate!
Drink(s):  Water, Smoothies in all varieties
Scent(s)/Essential Oil(s):  lavender, peppermint, orange, lemon
Game(s):  ANY and ALL
Sit-Down Restaurant(s):  Pita Jungle, Café Rio, Chipotle
Fast Food Restaurant(s):  In and Out Burger, The Habit
Place(s) to Receive a Gift Card:  Movies, Restaurants, massages:) and Amazon
Most used school/office supply:  FLAIR PENS, sticky notes, dry erase markers,
What I would really like is: Any of the above, not picky!
Heroes:  My mom, my grandmas
Hobbies:  piano, hiking, yoga, napping