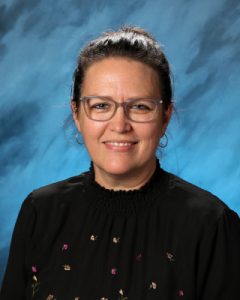 Stefany D GustafsonMath Teacher

Brigham Young University and University of Phoenix
B.S. in Elementary Education K-8
My Bio
Hello, my name is Stefany Gustafson aka Mrs. G.  I was the 5th grade teacher at the Recker Campus for 7 years, and this will be my 3rd year teaching 7th and 8th grade math.  I love the challenge of teaching math and finding ways to make it fun and help kids overcome their negative mindset about it.  My husband and I have been married 32 years and have 6 amazing children, 2 wonderful son-in-laws and 1 magnificent daughter-in-law.  (sadly no grandchildren yet😪)  I love being a mother! My husband is a high school math teacher, a wrestling coach and a super dad.  We spent our first 11 years of marriage in Los Gatos, California then we made the move to Arizona, we miss hanging out at the beach and the weather; but love Arizona.  In the few minutes that I have to myself, I love chilling with family, playing the piano, singing, board games, reading, hiking, and a really good nap.
When the conditions for surfing are perfect surfers call out to each other, "surf's up."  In my classroom that is the goal; to make conditions perfect for learning!
These are a Few of my Favorite Things ........
Color(s):  Red, Purple, and grey
Flower(s):  Roses and tulips
Healthy Snack(s):  Fruit
"Junk Food" Treat(s): Salt and Vinegar chips, anything chocolate!
Drink(s):  Water, Smoothies in all varieties
Scent(s)/Essential Oil(s):  lavender, peppermint, orange, lemon
Game(s):  ANY and ALL
Sit-Down Restaurant(s):  Red Robin, Pita Jungle, Café Rio
Fast Food Restaurant(s):  In and Out Burger, The Habit,
Place(s) to Receive a Gift Card:  Movies, Restaurants, Target, and Amazon
Most used school/office supply:  FLAIR PENS, sticky notes, dry erase markers,
What I would really like is: Any of the above, not picky!
Heroes:  My mom, and my grandma
Hobbies:  piano, hiking, yoga, napping