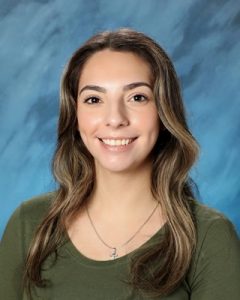 Priscilla BlackMontessori Teacher (Infant)

Northern Arizona University
Bachelor of Science in Criminology and Criminal Justice
My Bio
Hi everyone my name is Priscilla Black and I am the Co-Lead in the infant room this upcoming school year.
I am originally from Tucson AZ, but moved south to Sahuarita where I went to middle school and completed my high school years. After graduating high school I went to Northern Arizona University to obtain my bachelors degree in criminal justice which I hope to use in the near future. I met my future husband at Northern Arizona University and we are going to be getting married this October! Whenever I am not working I usually go to the gym with my fiancé, take our dog on a walk, make plans with various friends and spend time with family. I have always been around kids and grew up with a big family where helping and taking care of kids came very natural to me, so being in the infant room for almost three years now has been an amazing experience and I'm so excited to be continuing this journey.
Birthday: June 29th
Here are a few of my favorite things.....
Color(s): Blue and Pink
Flower(s): White Roses
Healthy Snack(s): Granola bars
"Junk Food" Treat(s): Ice cream and donuts
Drink(s): Water and Chocolate Milk
Scent(s)/Essential Oil(s): Lemon, Eucalyptus, and Lavender
Game(s): Love any board or card game
Sit-Down Restaurant(s): Cheesecake Factory
Fast Food Restaurant(s): Chipotle
Place(s) to Receive a Gift Card: Starbucks
Most used school/office supply: Pens
What I would really like is: A new car
Heroes: Superheroes - Spiderman, Life Heroes - My parents
Hobbies: Singing and dancing