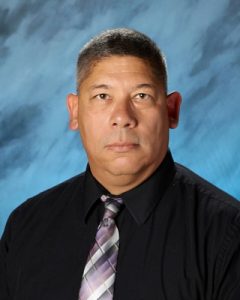 Edwin RamosCulinary Teacher/Head Swim Coach

Rhode Island College
Master's in Education/Educational Leadership
My Bio
Greetings Roadrunners,
My name is Edwin Ramos and I am the Culinary Teacher at San Tan Charter School Power Campus.  I am elated to be part of this team and more so, excited to be teaching a passion of mine, culinary.  I look forward to having an incredible experience and being able to share my personal experiences and techniques to the students of San Tan Charter School.
Birthday:    October 22nd
These are a few of my favorite things.....
Color(s): Green
Flower(s):  Alstroemeria
Healthy Snack(s): Grapes, bananas, blueberries
"Junk Food" Treat(s): Swedish Fish, Pringles, Lay's Dill Pickle Chips
Drink(s): Iced Coffee, Gatorade
Scent(s)/Essential Oil(s): Axe (Apollo)
Game(s): tennis, swimming, volleyball, basketball, corn hole, monopoly
Sit-Down Restaurant(s): North Italia, Mastro's, Bourbon Steak
Fast Food Restaurant(s): White Castle
Place(s) to Receive a Gift Card: Einstein's, Kohl's, White Castle, Walmart, Target, North Italia, Wild Ginger (Chinese restaurant), Fry's
Most used school/office supply: Nitrile exam gloves, large/X-large
What I would really like is: To build roots in a community so to have more time with my family.
Heroes: My dad
Hobbies: reading with my daughters, hiking, playing tennis, swimming, playing volleyball