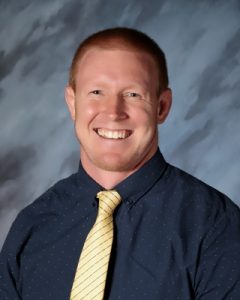 Bobby DavisStrength and Conditioning Teacher

Colorado Mesa University
Bachelor of Arts in Kinesiology
My Bio
Hello! My name is Bobby Davis and I am the Strength & Conditioning Teacher/Coach at the Power campus for students/athletes from grade 7th – 12th.
I grew up in Mesa, Arizona where I attended and wrestled for RMHS. I then attended Colorado Mesa University (CMU) where I wrestled on scholarship and immersed myself in learning furthermore about Strength & Conditioning. I earned my Bachelors of Arts in Kinesiology at CMU then came back to Arizona with my Fiancé at the time who is now my wife and we have a beautiful little girl named River who was born on March 31st, 2022. Before STC I was at Chandler Prep. Academy serving the athletes from 2015 – 2021 and have been at San Tan Charter since the summer of 2021.
I have selected teaching/coaching as my career choice to further give back and to make a positive impact on young student athletes. Once I finished college and wrestling was over for me, my focus shifted, and I wanted to mentor student athletes to be the best version of themselves and to be able to make an impact on my athletes, that some of my coaches had on me. I want to inspire young men and women to do things they didn't think they could and gain a newfound confidence in their day-to-day life. There is a great statement I was once told by a fellow coach Bobby Smith: Be the coach for your athletes, that you always wanted yourself.
Birthday: April 19th
--- My Favorite Things ---
Color(s): Blue
Flower(s): Sunflowers
Healthy Snack(s): Fruit
"Junk Food" Treat(s): Chips (any)
Drink(s): Coffee & Tea
Scent(s)/Essential Oil(s): Lavender
Game(s): Spike ball or capture the flag
Sit-Down Restaurant(s): State 48 & Brio
Fast Food Restaurant(s): Chipotle & Panda Express
Place(s) to Receive a Gift Card: Amazon & One Stop Nutrition
Most used school/office supply: Dry erase markers/erasers
What I would really like is: A pool
Heroes: Mom (Sandy) & Dad (Bob)
Hobbies: Working out, playing games & grilling out/hanging out with friends and family