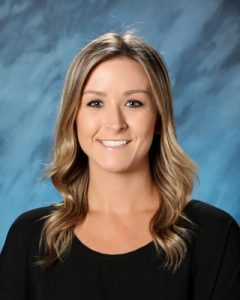 Britnie ThriftFront Desk Assistant

Cal State University Northridge
Child and Adolescent Development
My Bio
A little about me. I grew up in Southern California and have my Bachelor's Degree in Child and Adolescent Development. I was a Montessori Toddler Teacher before I started a family of my own. I am a proud mama of two beautiful children Kinslee and Kade. Being their mom is my greatest joy. Hobbies of mine are family time, hiking and gardening. My hopes and dreams are to be a light in children's lives, as they touch my heart I hope I do the same to them.
I enjoy working at San Tan Montessori because I love children and enjoy watching their growth over the year. I love the warm welcoming environment this school has created for not only the families but the staff.
Birthday: May 10th
These are a few of my favorite things.....
Color(s): Teal
Flower(s): Sun Flowers
Healthy Snack(s): Fruits and veggies
"Junk Food" Treat(s): Cheetos, Twix
Drink(s): Strawberry Sparkling water
Scent(s)/Essential Oil(s): Volcano, Cactus Flower, Poppy
Game(s): Life, Uno
Sit-Down Restaurant(s): Olive Mill
Fast Food Restaurant(s): In N Out
Place(s) to Receive a Gift Card: Target/ Amazon
Most used school/office supply: Post-it, pens, highlighters
What I would really like is: Anything <3
Heroes: My Mom!
Hobbies: Walks, Hiking, Family Time