Tauscher Times 4.18.23
Hello Power Campus!
Now that state testing is finished, we are looking forward to of our end-of-year celebrations and our final MAP testing.
As we begin to wind down from the school year, we set another record for earned scholarships with over $1.8 million for the 2023 seniors! We have over 65% of our graduating seniors accepted into 4-year colleges or universities and many others with opportunities for other post-secondary schools. Great job San Tan!
Thank you parents for helping to keep our high standards for dress and modesty in upholding our STCS dress code. Just a reminder as we continue into our warmer months:
From the STCS Family Handbook…
Shirts and tops must have straps at least two inches wide and not expose midriffs or be
too low cut in the front, back, or under the arms. Halter-tops and shirts with spaghetti
straps are not appropriate. Half shirts are not appropriate. Clothing may not be made of
see-through fabric. Clothing must cover the entire buttocks and a modest area of the
legs. Undergarments should not be exposed.
*School administrators will make the final decision regarding the appropriateness of any student's appearance.
Prom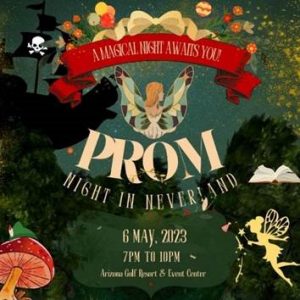 Join us for a "Night in Neverland" Prom event Saturday, May 6th, at the Arizona Golf and Resort in Mesa.  The event, sponsored by Student Council, is from 7-10 pm. Ticket prices are $40 for couples and $30 for single tickets.
Please click here to purchase prom tickets.
If your student plans to bring a guest, please complete a guest form and have it turned in to the front office by 3:30 PM on May 2nd.
Only students with approved guest forms will be admitted into the dance (even if a ticket was already purchased).
Power Campus Student Council Elections 2023-24 School Year
High School Student Council is now accepting applications for the following positions: Student Body President, Student Body Vice President, Secretary, and Historian.
Student council applications have been sent to high school students.
Timeline of Events
April 17th –
Applications available
May 5th –
Applications due
May 8th
Announce Candidates
May 8th– May 17th                  
Campaigning
May 18th
Speeches delivered at pep assembly (requirement)
May 19th
Voting /Announcements
Spring Sports Senior Night
Let's pack the stands this Friday, April 21 as we host our spring sports senior night. Starting at 4:30pm, our spring sports seniors will be recognized before the Boys Volleyball Game. Stay afterwards for the STCS tradition of autograph signing. This is not an event to be missed!
Montessori Gala
Consider joining us this weekend at the Montessori fundraiser. This year's theme is "Night at the Derby" and includes a meal prepared by the STCS Culinary Department, Musical Performances, Art Auction, and More!!
Click Below to reserve your tickets:
https://yqysjrrxph.formstack.com/forms/derby_gala
Class Electives – SY 2023-24
The school is at 99% capacity for enrollment and electives will close when classes are full. Electives are on a first-come, first-served basis, so remind your students to sign up today!
When you are ready, log into Infinite Campus to make your selections.
Choose 3 favorites and 3 alternates.
Click the Menu, scroll to the bottom to the More options, then Course Registration and Add Courses to see the electives.
All Electives are available to choose from!  Show us which electives you want next year.
Course Descriptions:
Current Electives:
Tax Credit Giving
San Tan Charter is well on its way of reaching our goal of $100,000.00. To continue with this gracious giving, please read below as there is still time to donate.
The form link is now open to donate:
https://yqysjrrxph.formstack.com/forms/?1627645-EuNcDzZTd2
With your support, we can continue to provide the programs outlined below:
Junior High and High School Culinary Arts: Restaurant quality cutlery, pots/pans, additional shelving, and supplies for the classroom
Full-Day Kindergarten Scholarship
Funding for the Library/Media Space
Health Care Supplies
Playground Equipment
In addition, our Montessori Preschool School gives out around $45,000.00 a year in scholarship to those families in need, we are able to offer these scholarships because of the Arizona School tax credit program. The best part is whatever you contribute, you will receive dollar for dollar back on your state taxes. So, if you give $100, you can deduct that $100 off what you owe in taxes. You do not have to have a child at the school to pledge, you must only be an AZ State resident paying AZ State taxes.
Here is the live link for the Preschool School Tax Credit:
https://yqysjrrxph.formstack.com/forms/privateschooltaxcredit
Here is the live link for the Private School Tax Credit: https://yqysjrrxph.formstack.com/forms/privateschooltaxcredit
Yearbooks on Sale
If you have not ordered already, don't hesitate and click below for orders! All orders from now through the end of the school year will be shipped directly to your home.
https://store.shopyearbook.com/santan-yb
Student Technology
San Tan Charter utilizes student laptops to access curriculum for the majority classes. Click on the links below for an approved list of devices you can purchase for your student for the school.
Approved Chromebook List – https://docs.google.com/spreadsheets/d/1aEObzp9n4hZaP_C8BPOBCTtHADoQWj9Jt9jkFa1gEMk/edit?usp=sharing
Technology Payments (for personal and tech rentals) – https://santancharterschool.com/laptop-lease/
Technology Agreement Form – All Students must complete the technology agreement form yearly.  https://drive.google.com/file/d/1tBXepw0WkWlSazS8suUaZTNea1LFCpTY/view
Infinite Campus Parent Portal
Follow your students' attendance, grades and more by logging on to the Infinite Campus Parent Portal by clicking here.
Looking to work at San Tan?
San Tan Charter is looking for Guest Teachers. Please call 480-222-0811 for more information.
School Calendar
Visit the San Tan Charter School Calendar – https://santancharterschool.com/calendar/
Download a PDF of our calendar of events – https://santancharterschool.com/wp-content/uploads/2022/02/2022-2023-school-year-calendar.pdf
Helpful Links
Become an Athletic Sponsor- Click Here to Donate
Social Media Links
Facebook- San Tan Charter School Family Connection
Calendar of Events
April 21
Spring Sports ***SENIOR NIGHT***
April 22
Montessori Fundraiser, 5:30pm
April 24
Earth Day
April 25
Home Meet: Golf (Augusta Ranch Golf Course), 4pm
Home Game: JH Basketball, Team A, 4:30pm
April 26
Home Game: Varsity Volleyball, 5:30pm
May 1-5
Teacher Appreciation Week
May 1
AP Testing
May 2
Power Campus Academic Awards, 6:00pm
May 4
Gifted Information Night, 5:30pm
May 4-5
AP Testing
May 6
PROM
Brandon Tauscher
Principal
480-222-0811 (Power Campus)
e. btauscher@santancs.com
San Tan Charter School
Visit us at SanTanCharterSchool.com
2014 – 2019 Best of Gilbert, AZ