Tauscher Times 1/26
Hello Power Campus!
Starting next week, we will begin our annual Science Fair and STEM Festival on campus. We are looking forward to seeing all the fun student work on display and cool projects the students have created. This year we have some logistical changes in the works (see detailed information below) so take a look to see how you can participate and join in on the festivities.
On the horizon, we have our spring testing season coming up. As with all tests, we encourage our students to focus only on giving their full concentration and effort during tests. The good results will only come through that dedicated effort.
On the athletics front, our winter sports season is in full swing and we are witnessing some impressive play by our Roadrunner student-athletes. San Tan Charter's sports broadcasting team is providing high quality and FREE live streaming of our home basketball games. You can watch us compete on the San Tan Charter Athletics YouTube website and follow our San Tan Charter Athletics Instagram.
We have now surpassed 85% enrollment capacity for returning students for next school year. Thank you for doing your part in helping us make informed decisions on staffing and program requirements for the upcoming school year. Make sure, if you haven't already, to re-enroll your students by clicking on the link below.
Click here to re-register your existing student for the next School Year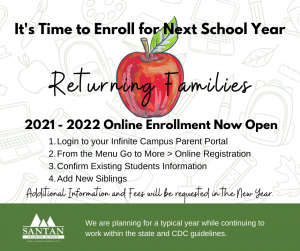 Science Fair and STEM Festival
Detailed information about our Science Fair / STEM Festival can be located at our San Tan SciFest Website.
Friday, February 5th of 2021 
STEM Festival:   STEM competitions will be held at school and streamed live for parents to watch. Students will report to the football field in small groups to compete with their STEM builds. Awards will be handed out at the festival.
8:30 am – Junior High @ Power Campus
10:30 am – High School @ Power Campus
1:30 pm – 6th Grade @ Recker Campus
School Science Fair:  Presentations (Google Slide Presentation) will be held in the science classrooms, winners will move on to the District Fair. No boards this year.  Awards will be streamed live (date to be determined).
Saturday, February 13th of 2021
District Science Fair:  The District Science Fair will be held virtually, winners will move on to the Arizona State Science Fair. Judges will interview students virtual through Google Meets with a teacher monitoring. Awards will be streamed live (date to be determined).
We Need Your Help! We are in need of volunteers to assist us in judging science fair projects!  Judges will assess the student projects virtually while students present them.  It is a thrilling adventure to participate in the learning of our remarkable young scientists.   Judges will have an opportunity to ask students questions about their project as they present.
Teachers will monitor the Google Meets and manage the student presentations, no stress for the judges! : -)
Interested?  Excellent!   You can sign up here: Volunteer Judge Sign Up
Chicken Coop Cam
Relax and check in with our finely feathered friends on the San Tan Charter coop cam. Or, better yet, be the "cool kid" and share the coop cam with your friends!  https://recker.santancharterschool.com/outdoor-environment/
Winter Sports Spectator Rules
Guidelines for winter sporting events: There will now be two parents/guardians permitted per athlete/coach at all events.
Valentine's Day Reminder
If you are new to the school, with Valentine's Day on the horizon, please remember our nutrition policy. We are a nut free and low-sugar school. Just a reminder to families to be sure not to have students bring candy on campus for Valentine's Day.
Yearbook Orders
We are taking orders for the 2020-2021 yearbook!
Seniors have the option of ordering a tribute page to make their senior year extra memorable!
For more information, contact Mr. Dudek at PDudek@santancharterschool.com
 Yearbook ordering information can be found at the link below:
www.yearbookordercenter.com using the school code 17675 to get to our book.
Calendar of Events
January 27                           HALF DAY: "A Day Schedule"
Home Game: JH Softball, 4:00pm
January 28                           Home Game: JH Softball, 4:00pm
Home Game: JH Boys Basketball Team 1, 4:00pm
February 1                            Home Game: JH Boys Basketball Team 2, 4:00pm
February 2                           Home Game: JH Softball, 4:00pm
February 4                            Home Game: JH Boys Basketball, 4:00pm
February 5                            Science Fair and STEM Fest
All the best,
Brandon Tauscher
Principal
480-222-0811 ext. 520 (Power Campus)
e. btauscher@santancs.com
San Tan Charter School
Visit us at SanTanCharterSchool.com
2014 – 2019 Best of Gilbert, AZ