Tauscher Times 1/19
Hello Power Campus!
We are back in action for another big week here at San Tan! As you know, this week we have shortened schedule and on the docket is junior and senior ASVAB testing, our annual district spelling bee and our winter sports seasons are fully underway. Currently the junior high boys basketball (Team 1) is undefeated and the varsity boys basketball team is ranked pre-season #1. School enrollment has increased rapidly and we are nearly 80% capacity in enrollment for the 2021-22 school year. Make sure, if you haven't already, to re-enroll your student(s) as we inch closer to filling up for next school year.
Click here to re-register your existing student for the next School Year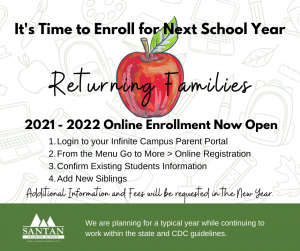 Science Fair and STEM Festival
We are officially two weeks away from our annual Science Fair and STEM Festival! This year our dates and processes have changed to allow social distancing, fresh air and the safest environment.
Detailed information about our Science Fair / STEM Festival can be located at our San Tan SciFest Website.
Updates:
Friday, February 5th of 2021 
STEM Festival:   STEM competitions will be held at school and streamed live for parents to watch. Students will report to the football field in small groups to compete with their STEM builds. Awards will be handed out at the festival.
8:30 am – Junior High @ Power Campus
10:30 am – High School @ Power Campus
1:30 pm – 6th Grade @ Recker Campus
School Science Fair:  Presentations (Google Slide Presentation) will be held in the science classrooms, winners will move on to the District Fair. No boards this year.  Awards will be streamed live (date to be determined).
Saturday, February 13th of 2021
District Science Fair:  The District Science Fair will be held virtually, winners will move on to the Arizona State Science Fair. Judges will interview students virtual through Google Meets with a teacher monitoring. Awards will be streamed live (date to be determined).
We Need Your Help! We are in need of volunteers to assist us in judging science fair projects!  Judges will assess the student projects virtually while students present them.  It is a thrilling adventure to participate in the learning of our remarkable young scientists.   Judges will have an opportunity to ask students questions about their project as they present.
Teachers will monitor the Google Meets and manage the student presentations, no stress for the judges! : -)
Interested?  Excellent!   You can sign up here: Volunteer Judge Sign Up
Chicken Coop Cam
It's back and better than ever! Check out the San Tan Charter School Coop Cam. The chickens on the Recker Campus share a live video feed, so check out our poultry in motion: https://recker.santancharterschool.com/outdoor-environment/
Winter Sports Spectator Rules
Guidelines for Junior High Only winter sporting events: There will be NO spectators permitted at JH basketball games and JH softball has been limited to 2 spectators per athlete/coach.
High School spectator guidelines include parents/guardians ONLY. There are (2) parent/guardians allowed per student-athlete.
Yearbook Orders
We are taking orders for the 2020-2021 yearbook!
Seniors have the option of ordering a tribute page to make their senior year extra memorable!
For more information, contact Mr. Dudek at PDudek@santancharterschool.com
 Yearbook ordering information can be found at the link below:
www.yearbookordercenter.com using the school code 17675 to get to our book.
Calendar of Events
January 19                           ASVAB Test (Seniors)
Home Game: JH Girls Softball, 4:00pm
January 20                          Power Campus Informational Night, 6:00pm
Home Game: JH Boys Basketball Team 1, 4:00pm
January 21                           ASVAB Test (Juniors)
Home Game: JH Boys Basketball, Team 1, 4:00pm
Home Game: JH Softball, 4:00pm
January 22                         District Spelling Bee
Home Game: JV Boys Basketball, 5:30pm
Home Game: Varsity Boys Basketball, 7:00pm
January 25                         Home Game: JH Boys Basketball Team 1, 4:00pm
Varsity Football Parent Meeting, 7:00pm
January 26                         Home Game: JV Boys Basketball, 5:30pm
Home Game: Varsity Boys Basketball, 7:00pm
January 27                         HALF DAY: "A Day Schedule"
Home Game: JH Softball, 4:00pm
January 28                         Home Game: JH Softball, 4:00pm
Home Game: JH Boys Basketball Team 1, 4:00pm
All the best,
Brandon Tauscher
Principal
480-222-0811 ext. 520 (Power Campus)
e. btauscher@santancs.com
San Tan Charter School
Visit us at SanTanCharterSchool.com
2014 – 2019 Best of Gilbert, AZ