Outdoor Environment Teaches Students about Nature and Responsibility
FOR IMMEDIATE RELEASE                                                             November 2021
Contact:  Kristofer Sippel
CEO/Superintendent of Schools
San Tan Charter School Inc.
480-222-0811
San Tan Charter School's Outdoor Environment Teaches Students about Nature and Responsibility, One Plant and Baby Chick at a Time
The School's Pre-K Through Sixth Grade Montessori Students Spend Time in the School's Outdoor Environment Program, Which is a Natural Extension of the Classrooms
GILBERT, Arizona—Growing tomatoes, zucchini, peppers and herbs from seed. Tending to three baby chicks. Learning about composting, how to use garden tools and beneficial bugs.
These are some of the many wonderful features and hands-on lessons from the Outdoor Environment at San Tan Charter School.
As Tabitha Maxwell, a Makerspace/Outdoor Environment teacher noted, the school's pre-K through sixth grade Montessori students spend time and learn in the Outdoor Environment, which she describes as an extension of the classrooms.
"We have been planting and tending to our flowers, chard, squash, zucchini, tomato, peppers and herbs in our garden," Maxwell said, adding that in addition to taking care of the trio of chicks, the students are also currently incubating a dozen chicken eggs.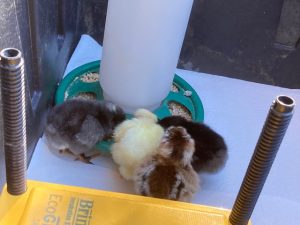 Each classroom spends time in the Outdoor Environment one day per week. This is the 15th year that the school has offered the nature-themed learning for students.
Outdoor Environment teacher Tanna Dean said the students learn about a wide variety of important topics in the Outdoor Environment, including how healthy soil will help produce strong plants, how to properly compost and how an aeroponic garden works.
"We check our aeroponic garden daily to make sure we do not have any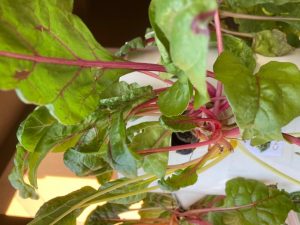 unwanted visitors like aphids or whiteflies," Dean said.
"We spray the leaves to discourage pests and check on the progress our plants are making. We have also discussed how beneficial insects like ladybugs can help keep aphids under control."
To ensure that the plants are watered during school vacation times and on weekends, teachers and students installed soaker hoses, and as each plant begins to grow, Dean and Maxwell point out and discuss the different shapes of the leaves and the process of photosynthesis.
Prior to planting anything new, Maxwell said she will discuss with her students which months are best for growing certain types of plants in the desert climate.
In addition to helping teach students about nature in a very hands-on way, Maxwell said being in the Outdoor Environment—which is made possible through the school's annual fundraising program—has a tangible and positive effect on the students' mood and behavior.
"Being outside in the space reduces stress, anxiety, anger and frustration. It is calming whether the students are engaged in an activity or sitting and taking it all in. It has such a positive impact on mental health," Maxwell said.
"Other benefits of having an outdoor environment are children learning responsibility, building confidence, using all five senses, communication and interacting with living things. Some children may not have the opportunity to be outdoors at home and this gives them that opportunity."
***ADDITIONAL PHOTOS AVAILABLE UPON REQUEST***For more information about the Outdoor Environment and/or to interview teachers, students and or/parents, or to learn more about the annual fundraising program that helps to support it, please contact Kris Sippel at 480-222-0811.
About San Tan Charter School:
San Tan Charter School is a Kinder-12th grade public non-profit tuition free charter school with two campuses in the East Valley within minutes of each other. The Power campus is a Junior High/High School serving students in grades 7-12 and the Recker campus is an elementary school serving students K-6 including a private Montessori preschool and K-6 tuition free Montessori classrooms. The school uses a Love and Logic® approach to classroom management that is focused on building relationships and communicating with respect. The school focuses on "Education with a Purpose," which means the teachers encourage their students' love of learning, which enables them to face challenges and develop critical thinking skills. San Tan Charter School also offers a championship athletics experience 5th through 12th grade and PE daily K-6. San Tan Charter School is focused on maximizing each student's intellectual development with a Gifted program K-12, Honors/AP classes, Concurrent/Dual Enrollment classes and elective choices including career and technical education (CTE)-Culinary and Aviation as well as the opportunity for Juniors and Seniors to attend EVIT half day. For more information, please visit https://santancharterschool.com/