Laramie Letters 8.30.22
Letter from the Principal
Dear San Tan Families,
I hope you are doing well today! This week kicks off September-madness before Break! We have a ton of fun events coming up shortly these next weeks.
As a reminder, we have a half day on Wednesday (August 31st) dismissal is from 11:00-11:30. I know that often on half days, other people like grandparents pick up. Please ensure that they have their car tags with them in order to pick up. We will be strictly enforcing the rule that if no car tag is present, we will be asking for those picking up to come inside to show ID to bring the students from the classroom. If you need an extra car tag to give to grandparents or siblings, please come into the front office to request a blank one.
– Mrs. Sarah Laramie
Important Announcements
Athletic Sponsorship
Would your business or family like to support our STCS Roadrunner Athletics Program by becoming an athletic sponsor? We have a variety of sponsorship packages that allows entry for any budget. This is a great way to promote your business while supporting our San Tan Athletes. For more information about becoming a sponsor or to initiate the process, please click here Athletic Sponsorship.
Half Day on Wednesday
Half day camp available. Sign up available here: https://yqysjrrxph.formstack.com/forms/stcs_half_day_camp_2022_2023
Details: $25 per student, 11:00 AM – 3:00 PM. Please send a packed lunch and snack with your child(ren) or if you want your child to participate in a group pizza lunch and snack, please email micke@santancs.com or call 480-222-0811ex 2 to contribute $10 per child. Student half day camp pickup by 3:00 PM please. Enter and Exit through the before and aftercare preschool entrance. Please email mbradford@santancs.com or call 480-222-0811ex 2 if your child(ren) will participate in aftercare fun between 3:00 pm and 5:40 pm.
Peace Day Shirt
Last chance as THIS ORDER EXPIRES THURSDAY!!!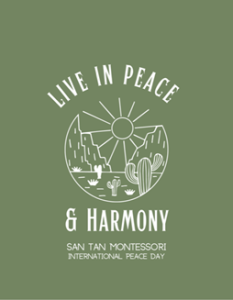 At San Tan we encourage Peace at every age level – from guiding toddlers to self-calm to teaching peaceful conflict resolution in our preschool and K-12 classrooms. We seek to provide experiences for children to understand and access the peace within themselves, to relate with other people, cultures, and the environment, and to embrace the complexity of humankind. When children are given opportunities to practice peace within themselves, they will be able to share it with others and seek it out in the world.
Dr. Martin Luther King, Jr. said, "The function of education is to teach one to think intensively and to think critically." These peacemakers have influenced generations. And inspired by their work, San Tan is educating the next generation of peacemakers and innovators.
Purchase a shirt and wear it on Peace Day, 2022 Wednesday, September 21st and throughout the Year! The shirts cost $10.
https://yqysjrrxph.formstack.com/forms/peace_day_shirt_2022
Author Visit
We are delighted to announce that on September 2nd a children's book author, Alison Fleming, is coming to San Tan Recker Campus. She will be presenting her book, Core Matters More to K-6th grade.
Core Matters More is a "sweet" story about a girl named Sara who struggles with being excluded because she "does not fit in". Luckily her apple friend, Miss Gala, has a different way of thinking: "A shape's just a shape.  Doesn't change what's inside!"
Ms. Fleming is a former Special Education teacher turned author and lives right here in the East Valley! Her purpose behind writing this book is to encourage children to think about what they care about, write about it, and share it with others. She also wants to teach students principles of inclusion and self-love.
Pre-Orders of Core Matters More are at a special price of $13 per book. To order, please print and fill out the attached order form and return to your student's teacher with payment in an enclosed envelope. You can also order using Venmo @alisonflemingauthor and note your student's name and teacher. Your pre-ordered book will also be personalized by Ms. Fleming before her visit.
Pre-orders are due by August 31st! For more information about Ms. Fleming or her book, Core Matters More, please visit alisonflemingauthor.com
Homecoming Spirit Week
September 19-23rd
Multiverse Monday- Dress as your opposite
TVA Tuesday- Decades Day
Captain America Wednesday- Wear Red, White and Blue
Infinity Stone Thursday- Dress in class colors

Blue- Kinder and First Grade
Red- Second Grade
Yellow- Third Grade
Green- Fourth Grade
Orange- Fifth Grade
Purple- Sixth Grade

Roadrunners Assemble Friday- Wear your best Roadrunner School spirit!
Grandparents Day Volunteers
This year, in honor of Grandparent's day, we are coordinating a breakfast for student's special people on September 9th. More details will be forthcoming regarding this event but for now, we'd love some help volunteering on the day or bringing in some breakfast treats!
https://www.signupgenius.com/go/4090C4BAAA922AAFD0-grandparents2
Usborne Book Fair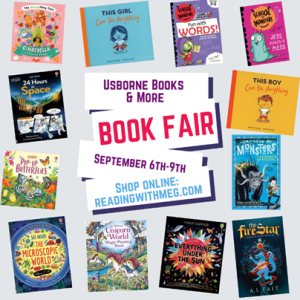 https://www.signupgenius.com/go/4090C4BAAA922AAFD0-usborne1
Our school will be welcoming back Usborne Books & More for a book fair this Fall! Be sure to stop in September 6th-9th and shop a variety of books for all interests. You will also have the opportunity to gift our wonderful teachers with gift certificates to shop books for their classrooms. If you are unable to attend in-person or prefer to browse the full catalog- you can shop online now through September 9th. In return, our school will receive 50% back in free books based on the book fair's sales. The book fair will be open during grandparent's day as well. Let's make this our best book fair to date. 📚
Shop online: 
Recker Academic Success Kit (RASK)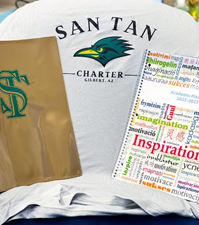 We are asking families for $30 per child to purchase our "Success Kit". In the success kit, will be the following items.
      Agendas
      School Communication Folder
      Data Tracking Kit
      School T-shirt
We will be taking payments with the following link: Make Online Payment
EF Tours 
Our list of registered travelers and those interested in travelling is growing each day. Please see our list of travel locations for next school year!
Bell'Italia Trip (Open to Everyone) March 13, 2023 – March 21, 2023
Washington DC Trip (6th Grade Only)
Belize Trip (8th Grade Only) May 5, 2023 – May 15, 2023
New York City (Theater Arts Students Only)
https://www.efexploreamerica.com/tour-website/2543243VF
Guest Teachers
We need guest teachers to fill in when our teaching staff is out ill. If you would like to guest teach for us, please email Ms. Richardson at srichardson@santancs.com to get back on the list for this school year.
Family Engagement Committee
At San Tan, we do not have a PTO, we have the Family Engagement Committee! The FEC will be helping with school events, parent groups, fundraising initiatives and organizing parent support within the classroom.
If you are interested in joining, please email at fec@santancs.com
Helpful Links
Social Media Links 
Facebook- San Tan Charter School Family Connection
Facebook- Mrs. Laramie Principal Recker Campus
Instagram- Mrs. Laramie Principal Recker Campus