Laramie Letters 8.24.21
Letter from the Principal
Dear San Tan Families,
Pictures pictures! We have our picture day coming up tomorrow! Please see the information below for scheduling. We also have our first half day coming up tomorrow. I know that sometimes grandparents and other family members pick up on half days so I will be sending a special email with tips and tricks separately. Please share it with whoever is picking up the students. We also ask for patience as this is the first time for many for using the app.
We have our first Varsity Football home game at the Power Campus on Friday! We will be announcing the Power and Recker Student Council officers at Half Time and we would love as many students there as possible! This is a white out game therefore your STCS shirt that came with the RASK kit is the perfect attire. If any parents would like to purchase one, they are $10 and can be purchased at either school's front desks or there will be a booth at the game! See you there!
– Mrs. Sarah Laramie
Important Announcements 
Reminder Half Day
Tomorrow is our first half day! If you need child care for the half day, here is the link!
https://yqysjrrxph.formstack.com/forms/aug_dec_half_day_camp
Picture Day Schedule
Tomorrow is picture day!! We are looking forward to seeing the kids dressed in their best. School photos take place during the day and sports photos will occur that day during practice time.
Parents can visit www.dorianstudio.com and type in San Tan Charter School – Recker Campus to have access to order online. There is no late order charge if families order within 4 days after picture day.
Time
Teacher
(one class per time slot)
7:30
Preschool
8:45
Camba
8:55
Harris
9:05
Aguilar
9:15
Berhost
9:20
Trowbridge
9:30
Dippre
9:40
Hinch
9:50
Hubbard
9:55
Sibley
10:00
Witte
10:05
Kilpatrick
10:10
Ruiz
10:15
Yocklin
10:20
Nording
10:25
Lyons
10:30
Gustafson
10:35
Long
10:40
Sterling
10:45
Cowled
11:00
End of Day
Yearbooks
Our 2021-2022 PreK-12 San Tan Yearbooks are on sale now. It will include a 15th year commemorative section and options for students and families. Begin planning and designing yours now. Visit our storefront link here: https://store.shopyearbook.com/santan-yb
Clubs
Please see the Fall Club Catalog . To register for the clubs, please register in the way each club has indicated in the blurb!
Athletic Sponsorship
Would your business or family like to support our STCS Roadrunner Athletics Program by becoming an athletic  sponsor? We have a variety of sponsorship packages which allows entry for any budget. This is a great way to  promote your business while supporting our San Tan Athletes. For more information about becoming a sponsor or to initiate the process, please click here Athletic Sponsorship.

State Farm is an Insurance Agency, providing multiple options to insure your car, house, life, etc.  Pam Johnson started with State Farm in 1993 as a fire underwriter, and became an agent in 2000.  The Pam Johnson Insurance Agency mission is three-fold.
To provide exceptional service to customers by being knowledgeable, professional, and caring.
To guide our State Farm customers in making the choices to insure their assets.
To empower our State Farm customers with financial services. By accomplishing the above, our State Farm customers can live LIFE!
To learn more about Pam Johnson, her team, and the services they can provide visit www.pamjohnson.com or call (480) 633-0324.
Athletics Family Pass
All High School games have a gate fee of $5 per adult and $3 per student/child. For the convenience of our families, we will be offering Athletic Family Passes for the immediate and non-immediate families of our San Tan Athletes. The options include $50 per season or $100 for the year. Tickets may be purchased for immediate family members (i.e., parents/guardians and siblings under 18). All other non-immediate family members (i.e., grandparents, aunts/uncles, cousins, etc.) are also welcome to purchase a family pass for entrance into the games. To purchase your family pass please click HERE.

iLEAD Poem
At our campuses, we have historically focused on Character Counts and our iLEAD values. We typically have said our Roadrunner Character pledge to highlight the Character Counts values. This year, we are looking to create a "Roadrunner iLEAD Pledge". We are creating a community competition for creative individuals who wish to leave their mark on STCS for years to come.
Here is the information:
Take the iLEAD values and compose a poem that could be said daily at both campuses.
The poem should be no longer than the Roadrunner Character Pledge which is around a paragraph. We have added the old Roadrunner Character Pledge below for reference
"I am a Roadrunner of Character, I will be worthy of Trust
I will be Respectful and Responsible, doing what I must
I will always act with Fairness, I will show the I Care
I will be a Good Citizen and always do my share"
Poems should be submitted through the following LINK
All Poems are due by August 31st
The poem selected will be announced September 7th.
iLead
integrity- Speaking the truth and presenting oneself genuinely with a focus on the whole person through self-discipline and determination.
Love- Valuing close relationships with others by thoughtfully demonstrating kindness, patience and a deep respect for the diversity, feelings and opinions of others.
Empathy- Imagining what it is like to be another person, in their situation, seeking understanding prior to acting.
Accountability- The acknowledgment and acceptance of responsibility for one's decisions and actions along with the results.
Dedication-Deeply committed to our community with a strong loyalty to our shared goals.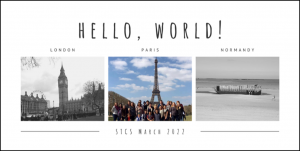 EF Trip
STCS is going to Europe! Join our school on the WWII in England and France trip. Students can earn college credit, experience new cultures and more! While this trip is open to all students grades 5-12, we do require any 5th– 7th graders traveling to have a parent chaperone with them but strongly encourage other parents to attend!
We have 3 spots left. Sign up now to guarantee a spot for your child! Have questions? The friendly folks at EF's Traveler Support team can help at 800-665-5364. And if your child has friends who haven't signed up yet, feel free to pass this message along to their families, too.
Hiring Positions
We are hiring for a Custodian position at the Recker Campus
If you are interested please email slaramie@santancs.com
Guest Teachers
We need guest teachers to fill in when our teaching staff is out ill. If you would like to guest teach for us, please email Ms. Lapadura at blapadura@santancs.com to get back on the list for this school year.
Helpful Links
Become an Athletic Sponsor- Click Here to Donate
Spirit Gear – Do you need school spirit gear to wear on Spirit Fridays? Click Here to Purchase
Social Media Links
Facebook- San Tan Charter School Family Connection
Facebook- Mrs. Laramie Principal Recker Campus
Instagram- Mrs. Laramie Principal Recker Campus
Mrs. Sarah Laramie, M.A.
Principal, Recker Campus
Doctoral Candidate, Grand Canyon University
San Tan Charter School
3959 E. Elliot Rd.
Gilbert, AZ 85234
Phone:  480-222-0811
"Education is the most powerful weapon which you can use to change the world"- Nelson Mandela