Laramie Letters 8.23.22
Letter from the Principal
Dear San Tan Families,
I hope you are having a great day! We have a lot of fun experiences going on on campus, please stay tuned to my @principal_laramie stories as I share a lot of the goings on on campus! Please watch out for an additional email from me regarding Grandparent's brunch instructions. Have a wonderful week!
– Mrs. Sarah Laramie
Important Announcements
Peace Day T-Shirt
At San Tan we encourage Peace at every age level – from guiding toddlers to self-calm to teaching peaceful conflict resolution in our preschool and K-12 classrooms. We seek to provide experiences for children to understand and access the peace within themselves, to relate with other people, cultures, and the environment, and to embrace the complexity of humankind. When children are given opportunities to practice peace within themselves, they will be able to share it with others and seek it out in the world.
Purchase a shirt and wear it on Peace Day, 2022 Wednesday, September 21st and throughout the Year! The shirts cost $10.
https://yqysjrrxph.formstack.com/forms/peace_day_shirt_2022
Author Visit
We are delighted to announce that on September 2nd a children's book author, Alison Fleming, is coming to San Tan Recker Campus. She will be presenting her book, Core Matters More to K-6th grade.
Core Matters More is a "sweet" story about a girl named Sara who struggles with being excluded because she "does not fit in". Luckily her apple friend, Miss Gala, has a different way of thinking: "A shape's just a shape.  Doesn't change what's inside!"
Ms. Fleming is a former Special Education teacher turned author and lives right here in the East Valley! Her purpose behind writing this book is to encourage children to think about what they care about, write about it, and share it with others. She also wants to teach students principles of inclusion and self-love.
Pre-Orders of Core Matters More are at a special price of $13 per book. To order, please print and fill out the attached order form and return to your student's teacher with payment in an enclosed envelope. You can also order using Venmo @alisonflemingauthor and note your student's name and teacher. Your pre-ordered book will also be personalized by Ms. Fleming before her visit.
Pre-orders are due by August 31st! For more information about Ms. Fleming or her book, Core Matters More, please visit alisonflemingauthor.com
Volleyball Night
Save the Date for August 30th! At the first Varsity home Volleyball game of the year, our Recker student council members will be introduced for the very first time! We are so excited and proud of all of our students who are running for student council office.
Grandparents Day Volunteers
This year, in honor of Grandparent's day, we are coordinating a breakfast for student's special people on September 9th. More details will be forthcoming regarding this event but for now, we'd love some help volunteering on the day or bringing in some breakfast treats!
https://www.signupgenius.com/go/4090C4BAAA922AAFD0-grandparents2
Usborne Book Fair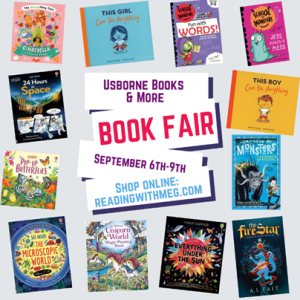 https://www.signupgenius.com/go/4090C4BAAA922AAFD0-usborne1
Our school will be welcoming back Usborne Books & More for a book fair this Fall! Be sure to stop in September 6th-9th and shop a variety of books for all interests. You will also have the opportunity to gift our wonderful teachers with gift certificates to shop books for their classrooms. If you are unable to attend in-person or prefer to browse the full catalog- you can shop online now through September 9th. In return, our school will receive 50% back in free books based on the book fair's sales. The book fair will be open during grandparent's day as well. Let's make this our best book fair to date. 📚
Shop online: 
San Tan D-Backs Night
Last Week to Sign Up!!!!!!
The D-Backs, along with San Tan Charter School, invite you to bring your family and friends to the game on Monday, September 12th vs. the Los Angeles Dodgers. The San Tan Charter students will perform the National Anthem on the field prior to the game! All students are welcome to participate in the singing of the National Anthem.
We look forward to seeing you there!
Purchase Tickets and Sign Up HERE
Order Deadline August 27th!!
Recker Academic Success Kit (RASK)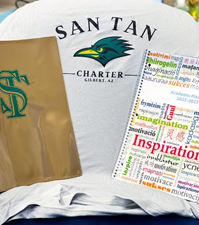 We are asking families for $30 per child to purchase our "Success Kit". In the success kit, will be the following items.
Agendas
School Communication Folder
Data Tracking Kit
School T-shirt
We will be taking payments with the following link: Make Online Payment
Student Technology
San Tan Charter utilizes student laptops to access curriculum for the majority classes at the 6th Grade. Many families have not yet paid to lease a school device or register their personal device.  This week administration is reconciling all technology and if students are still without devices, will receive a call home for payment for lease or to have their device secured on our Google Enterprise for Education.
Thank you to all our families who have been proactive in paying for the school laptop lease or registration. If you have not yet done so, please make that payment to avoid a call home or to have personal devices held until registration is complete.
Approved Chromebook List– https://docs.google.com/spreadsheets/d/1aEObzp9n4hZaP_C8BPOBCTtHADoQWj9Jt9jkFa1gEMk/edit?usp=sharing
Technology Payments (for personal and tech rentals) – https://santancharterschool.com/laptop-lease/
Technology Agreement Form – All Students must complete the technology agreement form yearly.  https://drive.google.com/file/d/1tBXepw0WkWlSazS8suUaZTNea1LFCpTY/view
EF Tours 
Our list of registered travelers and those interested in travelling is growing each day. Please see our list of travel locations for next school year!
Bell'Italia Trip (Open to Everyone) March 13, 2023 – March 21, 2023
Washington DC Trip (6th Grade Only)
Belize Trip (8th Grade Only) May 5, 2023 – May 15, 2023
New York City (Theater Arts Students Only)
https://www.efexploreamerica.com/tour-website/2543243VF
Guest Teachers
We need guest teachers to fill in when our teaching staff is out ill. If you would like to guest teach for us, please email Ms. Richardson at srichardson@santancs.com to get back on the list for this school year.
Family Engagement Committee
At San Tan, we do not have a PTO, we have the Family Engagement Committee! The FEC will be helping with school events, parent groups, fundraising initiatives and organizing parent support within the classroom.
If you are interested in joining, please email at fec@santancs.com
Helpful Links
Social Media Links 
Facebook- San Tan Charter School Family Connection
Facebook- Mrs. Laramie Principal Recker Campus
Instagram- Mrs. Laramie Principal Recker Campus