Laramie Letters 8.10.21
Letter from the Principal
Dear San Tan Families,
Happy Rainy day!!! We have a lot of exciting events coming up. Quick reminders that we have Picture Day coming up in two weeks on the 25th. That day is also a half day. I am very excited to see the kiddos wearing their finest!
– Mrs. Sarah Laramie
Important Announcements 
New to STCS?
If you are new to San Tan or have not yet joined, please consider joining our school's closed Facebook page and Instagram pages. On this page, we attach announcements, event invites, pictures of events, and more!
Facebook- San Tan Charter School Family Connection
Facebook- Mrs. Laramie Principal Recker Campus
Instagram- Mrs. Laramie Principal Recker Campus
DonorsChoose
DonorsChoose is a spectacular organization that helps teachers fundraise for special projects in their classrooms. From flexible seating options to black lights to extra laptops, I have seen amazing things be accomplished due to DonorsChoose. It is so fun to see my teacher's dreams come true for their rooms!
This week is a very special week for DonorsChoose. This Thursday, the Bill Gates Foundation and Bill Gates offering a full match to any donation that is made to our teacher's classrooms. Please think about donating to our teacher's rooms Thursday!
Check out all the projects within San Tan Charter School organization that are accepting donations.
Athletic Sponsorship
Would your business or family like to support our STCS Roadrunner Athletics Program by becoming an athletic sponsor? We have a variety of sponsorship packages which allows entry for any budget. This is a great way to promote your business while supporting our San Tan Athletes. For more information about becoming a sponsor or to initiate the process, please click here Athletic Sponsorship.
Delightful Waters is a family owned and operated company founded by Matthew Dippre and his wife Monica Dippre in 2006. Matthew and Monica live in the East Valley, have been married for 17+ years, and have 5 beautiful children, all of whom were adopted through foster care.  Delightful Waters provides services to take care of all your water softening and water filtration needs.  Call or email today for a free consultation!

Reverse Osmosis & Water Softeners
Sales and Services
Psalm 37:4
Matthew Dippre, (480) 345-2427
Delightfulwaters@gmail.com
Clubs
Please see the attached Fall Club Catalog. To register for the clubs, please register in the way each club has indicated in the blurb!
Athletics Family Pass
All High School games have a gate fee of $5 per adult and $3 per student/child. For the convenience of our families, we will be offering Athletic Family Passes for the immediate and non-immediate families of our San Tan Athletes. The options include $50 per season or $100 for the year. Tickets may be purchased for immediate family members (i.e., parents/guardians and siblings under 18). All other non-immediate family members (i.e., grandparents, aunts/uncles, cousins, etc.) are also welcome to purchase a family pass for entrance into the games. To purchase your family pass please click HERE.
Green and Gold Scrimmage
Please join us on Friday Aug 13th to kickoff the new school year with our GREEN and Gold scrimmage. Here is the schedule:
4:00 HS Volleyball team will scrimmage in the Gymnasium
5:30 Join us in the Power Courtyard for BBQ Burgers/ Hotdogs Meal
7:00 HS Football team will scrimmage at Power Football Field
Show your Roadrunner School Spirit and join in on the fun
Student Council
Calling all students interested in Student Council! Join us as we lead our school! Student Council will work to plan events and fundraisers this year, as well as increase school spirit. We'd love to have you! Interest meeting for potential officers as well as class representatives (3rd-6th grade) will be Monday, August 16th at 8am in Mrs. Sterling's room (214).

iLEAD Poem
At our campuses, we have historically focused on Character Counts and our iLEAD values. We typically have said our Roadrunner Character pledge to highlight the Character Counts values.
This year, we are looking to create a "Roadrunner iLEAD Pledge". We are creating a community competition for creative individuals who wish to leave their mark on STCS for years to come.
Here is the information:
Take the iLEAD values and compose a poem that could be said daily at both campuses.
The poem should be no longer than the Roadrunner Character Pledge which is around a paragraph. We have added the old Roadrunner Character Pledge below for reference
"I am a Roadrunner of Character, I will be worthy of Trust
I will be Respectful and Responsible, doing what I must
I will always act with Fairness, I will show the I Care
I will be a Good Citizen and always do my share"
Poems should be submitted through the following LINK
All Poems are due by August 31st
The poem selected will be announced September 7th.
iLead
integrity- Speaking the truth and presenting oneself genuinely with a focus on the whole person through self-discipline and determination.
Love- Valuing close relationships with others by thoughtfully demonstrating kindness, patience and a deep respect for the diversity, feelings and opinions of others.
Empathy- Imagining what it is like to be another person, in their situation, seeking understanding prior to acting.
Accountability- The acknowledgment and acceptance of responsibility for one's decisions and actions along with the results.
Dedication-Deeply committed to our community with a strong loyalty to our shared goals.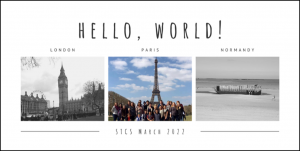 EF Trip
STCS is going to Europe! Join our school on the WWII in England and France trip. Students can earn college credit, experience new cultures and more! While this trip is open to all students grades 5-12, we do require any 5th– 7th graders traveling to have a parent chaperone with them but strongly encourage other parents to attend!
We have 3 spots left. Sign up now to guarantee a spot for your child! Have questions? The friendly folks at EF's Traveler Support team can help at 800-665-5364. And if your child has friends who haven't signed up yet, feel free to pass this message along to their families, too.
Plumber Needed
If your family works for or owns a plumbing company please email slaramie@santancs.com. We have some plumbing needs and would like to work with San Tan families.
Hiring Positions
We are hiring for a Custodian position at the Recker Campus
If you are interested please email slaramie@santancs.com
Guest Teachers
We need guest teachers to fill in when our teaching staff is out ill. If you would like to guest teach for us, please email Ms. Lapadura at blapadura@santancs.com to get back on the list for this school year.
Helpful Links
Become an Athletic Sponsor- Click Here to Donate

School Fees
Donate Today! 
Spirit Gear – Do you need school spirit gear to wear on Spirit Fridays? Click Here to Purchase
Mrs. Sarah Laramie, M.A.
Principal, Recker Campus
Doctoral Candidate, Grand Canyon University
San Tan Charter School
3959 E. Elliot Rd.
Gilbert, AZ 85234
Phone:  480-222-0811
"Education is the most powerful weapon which you can use to change the world"- Nelson Mandela