Laramie Letters 7.27.21
Letter from the Principal
Dear San Tan Families,
We absolutely cannot wait for the first day of school tomorrow! Thank you for all who came to open house last night! Attached to this email is our Monthly Calendar for August.
If you are NOT receiving my emails, my best recommendation is to add me (slaramie@santancs.com) as a contact. This will ensure that my emails are not identified as "spam" in your inbox.
– Mrs. Sarah Laramie
Important Announcements 
New to STCS?
If you are new to San Tan or have not yet joined, please consider joining our school's closed Facebook page and Instagram pages. On this page, we attach announcements, event invites, pictures of events, and more!
Facebook- San Tan Charter School Family Connection
Facebook- Mrs. Laramie Principal Recker Campus
Instagram- Mrs. Laramie Principal Recker Campus
First Day of School Information
Wednesday July 28th
Please enter Drive Lane off of Recker Road. Here is the Map on how to proceed through Drive Lane.
Drop Off
Gates open at 8:05. All students will come directly into the classroom

To ensure the safety and academic success of all students, there will be no outside morning recess.

Class will begin promptly at 8:30. If you are arriving on campus after 8:30, parents must sign in at the front office and receive a pass to class.
Kindergarten Parents – You received a separate email from me about drop-off 😊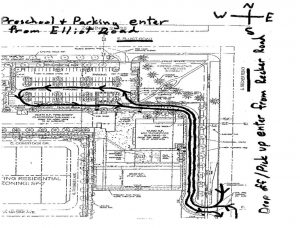 Dismissal
Half Day Kinder: 12:00 PM
K – 6 Grades: 3:00-3:30
We will be employing the School Dismissal Manager app for after school pick-up so that we can follow our safeguards and ensure the safety of our staff and students.
You should have received an email from School Dismissal Manager earlier this morning. If you have questions regarding the downloading of the app, please call the front office for help.
School Day
Specials will begin on Day one – please make sure that student have tennis shoes for PE.
Please remember our nut-free policy for lunches.  There are no microwaves available for student use in elementary school.  Students will need to bring any utensils they may need.
Please pack a healthy, quick, non-messy afternoon snack each day. Also, don't forget water bottles!
Lunch Ordering 
This is our hot meal program, when lunches are ready to start ordering. Attached are the instructions to sign up for My Hot Lunch Box
Your lunch lineup is as follows:
Monday – Boca Taqueria
Tuesday – Panda Express
Wednesday – Jason's Deli
Thursday – Planet Sub
Friday – Streets of New York

iLEAD Poem
At our campuses, we have historically focused on Character Counts and our iLEAD values. We typically have said our Roadrunner Character pledge to highlight the Character Counts values.
This year, we are looking to create a "Roadrunner iLEAD Pledge". We are creating a community competition for creative individuals who wish to leave their mark on STCS for years to come.
Here is the information:
Take the iLEAD values and compose a poem that could be said daily at both campuses.
The poem should be no longer than the Roadrunner Character Pledge which is around a paragraph. We have added the old Roadrunner Character Pledge below for reference
"I am a Roadrunner of Character, I will be worthy of Trust
I will be Respectful and Responsible, doing what I must
I will always act with Fairness, I will show the I Care
I will be a Good Citizen and always do my share"
Poems should be submitted through the following LINK
All Poems are due by August 31st
The poem selected will be announced September 7th.
iLead
integrity- Speaking the truth and presenting oneself genuinely with a focus on the whole person through self-discipline and determination.
Love- Valuing close relationships with others by thoughtfully demonstrating kindness, patience and a deep respect for the diversity, feelings and opinions of others.
Empathy- Imagining what it is like to be another person, in their situation, seeking understanding prior to acting.
Accountability- The acknowledgment and acceptance of responsibility for one's decisions and actions along with the results.
Dedication-Deeply committed to our community with a strong loyalty to our shared goals.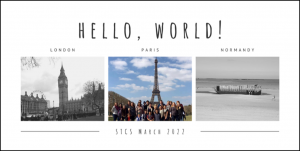 EF Trip
STCS is going to Europe! Join our school on the WWII in England and France trip. Students can earn college credit, experience new cultures and more! While this trip is open to all students grades 5-12, we do require any 5th– 7th graders traveling to have a parent chaperone with them but strongly encourage other parents to attend!
We have 3 spots left. Sign up now to guarantee a spot for your child! Have questions? The friendly folks at EF's Traveler Support team can help at 800-665-5364. And if your child has friends who haven't signed up yet, feel free to pass this message along to their families, too.
My Hot Lunch Box Lineup for the Semester 
This is our hot meal program, when lunches are ready to start ordering, I will email out the instructions to sign up as soon as it is ready.
Your lunch lineup is as follows:
Monday – Boca Taqueria
Tuesday – Panda Express
Wednesday – Jason's Deli
Thursday – Planet Sub
Recker Academic Success Kit (RASK)
We are asking families for $30 per child to purchase our "Success Kit". In the success kit, will be the following items.
School "Nothing" Book– This is a notebook in which students will be details elements of their day, spelling words etc. School Agendas have long been the go-to method of teaching students responsibility and ownership of their learning. We have determined that, for the agendas to become an effective time and task management tool for the classroom, every student will need one.
School Communication Folder– Families are a powerful influence on children's academic development. When family members are involved in student work, students' self-esteem, interest, and language skills improve. To keep families up to speed, it's crucial to establish a consistent method of communication between home and school. A weekly folder is a perfect method on ensuring active communication because it becomes part of the routine, and parents know to look for it each week.
Data Tracking Kit– Teachers at San Tan use formative and summative data to inform their instruction. Looking at the data helps the teachers understand the individual needs of each student and how to meet those needs. Typically, this data is only looked at by the teachers. However, research has shown that when students themselves identify, reflect, and use their data in their learning, they become active participants in their academic growth. Through our Data Tracking Kit, teachers will be training students how to graph, analyze, and set goals for their learning.
School T-shirt- We wear our school t-shirts on Friday to signify our Roadrunner Pride!
We will be taking payments with the following link: Make Online Payment
Guest Teachers
We need guest teachers to fill in when our teaching staff is out ill. If you would like to guest teach for us, please email Ms. Lapadura at blapadura@santancs.com to get back on the list for this school year.
Plumber Needed
If your family works for or owns a plumbing company please email slaramie@santancs.com. We have some plumbing needs and would like to work with San Tan families.
Hiring Positions
We are hiring for a Special Education Paraprofessional
We are hiring for a Custodian position
If you are interested please email slaramie@santancs.com
Family Engagement Committee
At San Tan, we do not have a PTO, we have the Family Engagement Committee! The FEC will be helping with school events, parent groups, fundraising initiatives and organizing parent support within the classroom.
If you are interested in joining, please email me at slaramie@santancs.com
Mrs. Sarah Laramie, M.A.  
Principal, Recker
Doctoral Candidate, Grand Canyon University
San Tan Charter School
3959 E. Elliot Rd.
Gilbert, AZ 85234
Phone:  480-222-0811
"Education is the most powerful weapon which you can use to change the world"- Nelson Mandela