Laramie Letters 7.13.21
Letter from the Principal
Dear San Tan Families,
I am so excited that the new school year is right around the corner! Teacher assignments went out last week.
Our new teachers start back on campus this week on the 14th and all staff will return on Thursday the 15th. I have attached the training schedules for the staff so you can see what your teachers are learning about the next couple of weeks.
If you are NOT receiving my emails, my best recommendation is to add me (slaramie@santancs.com) as a contact. This will ensure that my emails are not identified as "spam" in your inbox.
– Mrs. Sarah Laramie
Important Announcements 
New to STCS?
If you are new to San Tan or have not yet joined, please consider joining our school's closed Facebook page and Instagram pages. On this page, we attach announcements, event invites, pictures of events, and more!
Facebook- San Tan Charter School Family Connection
Facebook- Mrs. Laramie Principal Recker Campus
Instagram- Mrs. Laramie Principal Recker Campus
Summer Online Book Fair
Supporting a love for reading is critical to student success. Explore our online book fair and help your child find their next favorite book.
Now everyone can participate! Please encourage your child to create an online wish list and share it with friends and family.
efairs.follettbookfairs.com
Our eFair code: RKD99
Orders due by: July 17th 2021
Follett will ship your books to the school after our eFair is complete.
For every purchase made, we will earn up to 40% back in rewards to help support our school! My goal is to get books for a Birthday Book Cart for the students at the school to choose from when it is their birthday! 
Back to School Movie Night Save the Date
Come meet your teachers and see your class lists! We will be playing Trolls World Tour for our families starting at 4:00-6:00 PM in the Gymnasium. We will be having a costume contest with prizes, a photo wall and lots of dancing. We will be selling pizza and water so come hungry!
Please order your Pizza and Water ahead of time at the following link
https://yqysjrrxph.formstack.com/forms/recker_family_movie_night
Cheese Pizza Meal (2 slices of Cheese Pizza and 1 bottle of water)- $5
Pepperoni Pizza Meal (2 slices of Pepperoni Pizza and 1 bottle of water)- $5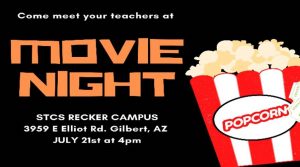 My Hot Lunch Box Lineup for the Semester 
This is our hot meal program, when lunches are ready to start ordering, I will email out the instructions to sign up as soon as it is ready.
Your lunch lineup is as follows:
Monday – Boca Taqueria
Tuesday – Panda Express
Wednesday – Jason's Deli
Thursday – Planet Sub
Friday – Streets of New York
Open House Save the Date 
Save the Date: July 26th
Location: Recker Campus
∙    3:00PM    Session One
∙    4:00PM     Session Two
∙    5:00PM – 6:00PM       ALL STAFF DINNER BREAK; NO SESSIONS
∙    6:00PM     Session Three
∙    7:00PM     Session Four
ELEMENTARY DETAILS:
∙         Logistics:  Head on over to your student's classroom.  This will be casual and you are welcome to visit any classes at your leisure. There are no formal informational meetings, it is a time to meet your student's teacher.
∙         School Supplies:  Please bring your supplies this evening if you have them.  We will have you drop off the items at your student's teacher's classroom. If you ordered the pre-packaged school supply bag, you may pick them up in your student's classroom.
∙         Questions Que: For any questions that may pop up and I am unable to answer them this evening, please Click Here and I will make sure to follow up with you.
Recker Academic Success Kit (RASK)
We are asking families for $30 per child to purchase our "Success Kit". In the success kit, will be the following items.
School "Nothing" Book– This is a notebook in which students will be details elements of their day, spelling words etc. School Agendas have long been the go-to method of teaching students responsibility and ownership of their learning. We have determined that, for the agendas to become an effective time and task management tool for the classroom, every student will need one.
School Communication Folder– Families are a powerful influence on children's academic development. When family members are involved in student work, students' self-esteem, interest, and language skills improve. To keep families up to speed, it's crucial to establish a consistent method of communication between home and school. A weekly folder is a perfect method on ensuring active communication because it becomes part of the routine, and parents know to look for it each week.
Data Tracking Kit– Teachers at San Tan use formative and summative data to inform their instruction. Looking at the data helps the teachers understand the individual needs of each student and how to meet those needs. Typically, this data is only looked at by the teachers. However, research has shown that when students themselves identify, reflect, and use their data in their learning, they become active participants in their academic growth. Through our Data Tracking Kit, teachers will be training students how to graph, analyze, and set goals for their learning.
School T-shirt- We wear our school t-shirts on Friday to signify our Roadrunner Pride!
We will be taking payments with the following link: Make Online Payment
Guest Teachers
We need guest teachers to fill in when our teaching staff is out ill. If you would like to guest teach for us, please email Ms. Lapadura at blapadura@santancs.com to get back on the list for this school year.
Family Engagement Committee
At San Tan, we do not have a PTO, we have the Family Engagement Committee! The FEC will be helping with school events, parent groups, fundraising initiatives and organizing parent support within the classroom.
If you are interested in joining, please email me at slaramie@santancs.com
Mrs. Sarah Laramie, M.A.
Principal, Recker Campus
Doctoral Candidate, Grand Canyon University
San Tan Charter School
3959 E. Elliot Rd.
Gilbert, AZ 85234
Phone:  480-222-0811
"Education is the most powerful weapon which you can use to change the world"- Nelson Mandela