Laramie Letters 5.18.21
Letter from the Principal
Dear San Tan Families,
Happy last week of school! What a wonderful we have going on the Recker campus! Spirit Week is running full throttle and Graduations are in flight! I was just so proud to see how excited the kiddos were for Move Up Day and to learn about next year's activities. It gives me so much excitement for next year!
– Mrs. Sarah Laramie
Important Announcements 
IT Information from Mr. Rissler
I want to convey my apologies for the technology issues we had with yesterday's academic awards ceremony. We made a mistake when we set up the YouTube livestream and were not able to broadcast the event live. I know this was very disappointing and frustrating for all those who tuned in to watch. On behalf of the IT department here at San Tan, I apologize for this mistake. I have made changes to make sure this doesn't happen again. If you have any questions or concerns, please reach out to me at arissler@santancs.com.
Picture Link from the Recker Awards Assembly
Here is the SmugMug link: https://santancharter.smugmug.com/Recker-Awards-Assembly-/
Password is the same as the other SmugMugs, STCS2020!
Teacher Late Night Dinner from the Family Engagement Committee
Let's send our teachers off for the summer full! Let's thanks and spoil our STCS Staff during their final Teacher Long Conference Night on Thursday, May 27th! If you are able to donate, please drop off all items on or before Wednesday, May 26th to the front office.
https://www.signupgenius.com/go/4090b48a9af2eaafb6-lets
Graduation Week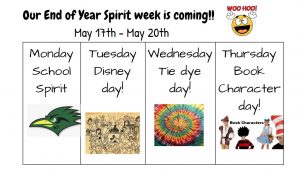 Happy Graduation Week! Here are the links that we'll be using for the Recker graduations this week. They are "unlisted" videos, so they won't show up on our YouTube page. They can only be viewed through one of the links below.
San Tan Charter School Recker 2021 Preschool Graduation on Tuesday at 9 am
San Tan Charter School Recker 2021 Kindergarten Graduation on Wednesday at 9 am
Looking forward to celebrating our graduates!
School Supplies for Next Year
San Tan is kicking off its annual back to school fundraiser that will save you money while making your life easier! Pre-order your child's school supplies now and they will magically        arrive in your child's classroom at the Meet the Teacher Night on July 21st. Please view this flier!
Summer Camp
We are offering a camp on the last day of school 5-20 and all Friday 5-21 for all K-6 elementary students and Power students who can get transportation to the Recker campus at the Recker campus. If you are interested, please fill out the following formstack link.
https://yqysjrrxph.formstack.com/forms/may_day_camp
Also different as in previous years we are not taking a week off before we start summer school/camp at the Recker campus and will begin on Monday May 24th for Pre-K-8 students after the last week of school so please share this information with your families and inquiring families. We have a fun and educational elementary summer camp planned and led by our very own San Tan graduates Madison Bradford and Madison Wilson.
2021 Summer Camp Enrollment now open:
We would like to welcome you to enroll your student for Summer Camp. Summer Camp will be from May 24th to July 27th. Please return the completed enrollment packet to the Montessori Front Desk from the link below.
Preschool 2021 Summer Camp Enrollment Agreement – Preschool
Charter     2021 Summer Camp Enrollment Agreement – K-6
Musical Theatre Summer Camp
Instructor: Mrs. Jorie McQuaid
Grades: 3-6
This musical theatre camp will offer quality, age appropriate training for students to develop their skills as "triple threat" (acting, singing, dancing) performers. The camp features fun activities and will culminate with a showcase performance featuring
musical selections from Broadway shows, Disney and more! Theatre camp is a great way to develop your talents, make new friends and have fun!
Cost: $250 (includes instruction, camp t-shirt, educational materials, scripts and music)
Dates: Monday-Friday June 21st-July 1st (9:00AM-12:00PM)
*Please note week 2 ends on Thursday, with the final showcase on Friday
Final Showcase Performance: July 2nd, 6:00PM (call time 5:00PM)
Maximum Class Size: 20 Students
Minimum Class Size: 10 Students
Click Here to Register – For all questions, please reach out to jmcquaid@santancs.com
Chicken Coop Cam
Make this a part of your daily routine. Check in with our fine feathered friends and learn about all our friendly chickens by clicking here!  https://recker.santancharterschool.com/outdoor-environment/
 Helpful Links
Donor's Choose
Donate Today! 
Spirit Gear – Do you need school spirit gear to wear on Spirit Fridays? Click Here to Purchase
Dates to Remember 
5/19 District Graduation Day

Kinder Graduation at 9 am Recker Campus
Eighth Grade Graduation at 4 pm Power Campus
Senior Graduation at 7 pm Power Camps

5/20 Last Day of School Half Day Dismissal at 11:00
5/24 Front Office Closed
5/26-5/28 Parent Teacher Conferences
Mrs. Sarah Laramie, M.A.  
Principal, Recker Campus
Doctoral Candidate, Grand Canyon University
San Tan Charter School
3959 E. Elliot Rd.
Gilbert, AZ 85234
Phone:  480-222-0811
"Education is the most powerful weapon which you can use to change the world"- Nelson Mandela