Laramie Letters 5/14
Hello Recker Families!
I hope you are well! Happy second to last week of school!
Summer Camp Offerings
SIGN UP FOR A CHOOSE YOUR OWN ADVENTURE CAMP
JUNE 1ST – JULY 29TH, 2020
8:00 AM – 3:45 PM
Before Care options available starting at 7 AM and After Care options available till 5:45 PM. Contact Myra Icke with any questions – micke@santancs.com or 480-222-0811
Our 9-week summer program is tailored to students from Toddler through 6th Grade.  Travel to the Lost Kingdom, Atlantis, Greece, Paris, the Wild Wild West, and more on our weekly adventures.
Choose the Weeks you'd like to participate
Choose from our 3-Day, 4-Day, or 5-Day programs
Choose Half Day or Full Day
Before Care (7 AM – 8 AM) and After Care (3:45 PM – 5:45 PM) options available
Register and Pay in the office for San Tan Montessori Summer Camp.
Athletics Summer Camp
Our athletics department is excited to offer some amazing summer athletics programs beginning June 1st. Our coaching staff has been busy planning and is ready to welcome everyone back. There are offerings in:
Football (5th-12th Grades)
Basketball (1st-12th Grades)
Volleyball (3rd-12th Grades)
Swim (5th-12th Grades) *please note at this time swim is for interest only as we are still working with EVO for pool time. Please make sure to submit any interest and our athletic department will email once we have confirmation of pool usage.
With COVID 19 we are taking extra steps to ensure we are keeping our campus sanitized. For the safety of all of our staff and students we are asking the following things:
To register for a camp please visit: https://yqysjrrxph.formstack.com/forms/summer_camp
Rocks of Love Project
We thought it would be a fun at home project for the kids this week in honor of Teacher Appreciation Week- to fill our " choose joy" garden with rocks of love for the teachers.
As many of you may know, the teachers are currently not only teaching, but cleaning out their classrooms and their sweet students' items. By filling the garden with color and positive messages it can be a way to show how appreciated they are and encourage them during these difficult times.
(AND, I have to add because our Art Masterpiece ladies reminded me- make sure you seal your rocks with modge Podge or a clear coat of some kind so they stay beautiful for a long time!)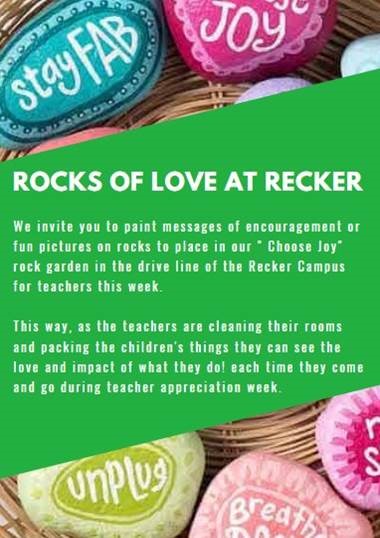 Student Supply Pick Up Instructions
I wanted to send out instructions on how to pick up your child's personal affects. Our teachers are diligently bagging your student's belongings in brown paper bags. Starting at 10 am on the following days, the bags will be placed outside the school on the green bags next to gloves for your convenience.
| | |
| --- | --- |
| Grades | Date of Pick Up |
| K-1 | Monday May 18th |
| 2-3 | Tuesday May 19th |
| 4-5 | Wednesday May 20th |
| 6-8 | Thursday May 21st |
| Remaining Bags | Friday May 22nd |
As you can imagine, there are quite a few bags being placed out. If you have multiple students in different grade levels, my recommendation will be to arrive on Friday to pick up your bags as the remaining bags from the week will be put out then.
Recker Campus Virtual Tour
If you have not had a chance to see our virtual tour of the Recker Campus, please click here! I want to give a huge shout out to Mrs. Walker and Mrs. Heller for putting the tour together!
Don't forget, we are all in this together and please reach out if you should need anything!
Mrs. Sarah Laramie, M.A.  
Principal, Recker Campus
Doctoral Candidate, Grand Canyon University
San Tan Charter School
3959 E. Elliot Rd.
Gilbert, AZ 85234
Phone:  480-222-0811
"Education is the most powerful weapon which you can use to change the world"- Nelson Mandela