Laramie Letters 4.18.23
Letter from the Principal
Dear San Tan Families,
Happy last month of school!! Don't forget our music concert is TOMORROW!! Information is below!
This NEXT Wednesday (April 26h) we will be conducting a Lockdown Drill to practice our safety scenarios. At San Tan, we firmly believe in safety but also, we believe in a parent's right to have a say in what their children are exposed to. I wanted to let you know ahead of time so that you can have a conversation with your student or keep your student home if need be. I will be emailing home following the drill to let you know when it is over. I have also attached a "social story" to help guide at home conversations.
– Mrs. Sarah Laramie
Month at a Glance 
Recker Elementary Music Concert 4/19
Montessori Gala- 4/22
Lockdown Drill- 4/26
Half Day of School- 4/26
Teacher Appreciation Week 5/1-5/5
MAP Testing 5/1-5/12
Recker Academic Awards 5/2
Gifted Information Night 5/4
Spring Athletic Awards 5/17
Kindergarten Graduation 5/24
8th Grade and 12th Grade Graduation 5/25
Last Day of School 5/26
School Closed 5/29
Parent Teacher Conferences 6/1-6/2
Important Announcements
Spring Concerts
TOMORROW Wednesday April 19th
Lower Grades Concert (Kinder, 1st and 2nd Grade): 5:00pm-5:30pm (4:30pm Call Time)
Montessori Concert (Kinder – 6th Grade): 6:00pm-6:30pm (5:30pm Call Time)
Upper Grades Concert (3rd, 4th, 5th and 6th Grade): 7:00pm-7:30pm (6:30pm Call Time)
Concert Attire: Black bottoms (skirt, pants, etc..), white top, solid green accent (hair accessories, neck tie, vest, etc…)
Montessori Gala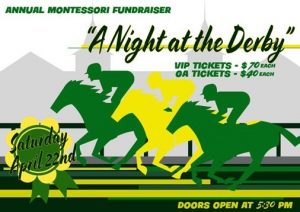 Looking for a fun night out? Consider the Montessori Fundraiser!! This Night at the Derby has student run Dinner, Music Performances, Art Auction, and More!!
https://yqysjrrxph.formstack.com/forms/derby_gala
Tax Credit 
This year's tax credit giving goal is $100,000.00.
Your gift — large or small — will make a difference.
The form link is now open at:
https://yqysjrrxph.formstack.com/forms/?1627645-EuNcDzZTd2
With your support, we can continue to provide the programs outlined below;
Junior High and High School Culinary Arts: Restaurant quality cutlery, pots/pans, additional shelving, and supplies for the classroom
Full-Day Kindergarten Scholarship
Funding for the Library/Media Space
Health Care Supplies
Playground Equipment
Reading Initiative
I am so excited to tell you of an initiative that I am starting that will continue throughout the rest of this year. Dedicated small group reading is proven to not only increase reading scores but also increase student's love of reading. I am really passionate about students gaining a love of reading so we have created a new initiative.
We would love to invite parent volunteers daily between 8:30-9:30, in half an hour segments, to read to small groups of students in the library. I have attached the sign up. In the sign up, you will see classrooms with teacher's names in it so that you know which classes you are volunteering for.
Grandparents are also welcome if they are interested! I am really excited about this initiative and want to thank you all for your consideration.
Thank you for your time and your devotion to our community,
https://www.signupgenius.com/go/4090c4baaa922aafd0-reading6#/
Spring Field Trips Links
Please sign your student up as soon as possible for our fieldtrips coming up
Medieval Times (6th Grade Mainstream, Gifted AND Montessori)
Helpful Links
Social Media Links
Facebook- San Tan Charter School Family Connection
Facebook- Mrs. Laramie Principal Recker Campus
Instagram- Mrs. Laramie Principal Recker Campus