Laramie Letters 3/24
Hey Recker Families! I hope you are doing well! It seems like forever since we have seen all of those smiling faces!  We miss you!
I know this can seem like a scary time but rest assured, we are all in this together. Please let me know if there is anything I can do to help your families. My heart is with you all. Ms. Walker and I are here for guidance and support, please don't feel like you are going at this alone. We are one family. I have every faith that this San Tan community will band even closer together during this time.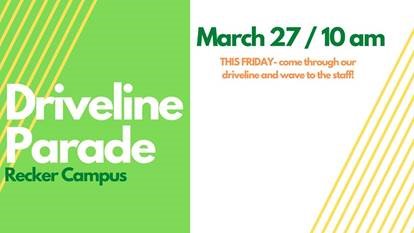 The teachers have been hard at work taking our curriculum online for you to access very soon. In the meantime, we would love to invite you to our first ever, COVID-19 inspired, DRIVELINE PARADE!
Driveline Parade Video – Mrs. Laramie & Mrs. Walker
Drive through drive lane with your windows down so we can see your faces! We miss them so much! Can't wait to see you all there!
Mrs. Sarah Laramie, M.A.  
Principal, Recker Campus
Doctoral Candidate, Grand Canyon University
San Tan Charter School
3959 E. Elliot Rd.
Gilbert, AZ 85234
Phone:  480-222-0811
"Education is the most powerful weapon which you can use to change the world"- Nelson Mandela