Laramie Letters 12/8
Letter from the Principal
Dear San Tan Families,
I am just writing to give a HUGE celebration to the campus and a huge thank you to families who donated! Every single one of the open Donor's Choose projects were funded on Giving Tuesday. I woke that morning with such a feeling of gratitude towards our community and the many many businesses who matched donations during #givingtuesday.
We are so excited to roll out current family enrollment for next school year. During this time, we are planning on a "normal" school year. Of course, we will work within the CDC and state guidelines to make sure everyone is safe during this unknown time. I am so excited for our community and the future of San Tan Charter School.
– Mrs. Sarah Laramie
Important Announcements
Q3 Attendance
If you would like to make a change to online or to in person school for Quarter 3, please fill out the following form. Q3 Attendance Survey
Enrollment
Current family enrollment is going on right now!! Please take the following steps to save your student's spot for the 2021-2022.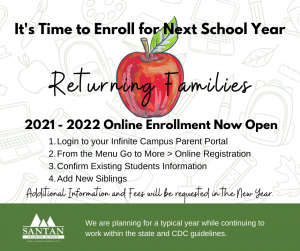 Gifted Testing
San Tan's annual Gifted Testing event is approaching quickly!
If you are interested in having your child tested for giftedness, please complete the digital Parent Request Form and process the $50 Co-Pay online.  Students in grades K through 12 are welcome to participate in our Spring testing session.   If your child is already identified as gifted, they do not need to retest.  Gifted testing will begin in mid- February.
Note:  If your child is currently in a gifted class and identified as 'provisional' they will automatically be retested, you do not need to send in the recommendation form. : -)
**Gifted Testing Requests are due no later than January 15th.
Parent Request for Gifted Testing – https://yqysjrrxph.formstack.com/forms/gifted_testing
Paper Drive
We will be extending the paper drive through to the last day of school for the semester, December 18th.  Thank you thank you for all of those who have donated so far.
1st Place- Fernandez (38 points)
2nd Place- Johnson (37 points)
3rd Place- Cowled (28 points)
Don't forget that the class with the MOST points will receive a teacher reward for participating is $50.00 classroom fund. Write your teacher's name on the paper and send it to the front office.
White Ream of Paper =1 point
Don't want to go to the store? Visit:  smile.amazon.com/ch/56-2610311 to start shopping now! You can ship your order directly to the school and add a "gift receipt" with your child's teacher's name on it!
School Address
3959 E Elliot Rd
Gilbert, AZ 85234
Guest Teachers
We need guest teachers to fill in when our teaching staff is out ill. If you would like to guest teach for us, please email Ms. Burdeno at sburdeno@santancs.com to get back on the list for this school year.
Helpful Links
Lunch Ordering- Link to lunch ordering 12/14-12/17
Become an Athletic Sponsor- Click Here to Donate
Spirit Gear – Do you need school spirit gear to wear on Spirit Fridays? Click Here to Purchase
Yearbooks
Donor's Choose
Dates to Remember 
11/30-12/17-United Food Bank Food and Toy Drive
11/30-12/11 December MAP Testing Window
12/09- Recker Campus Retake Pictures
12/15- Recker Campus Math Olympiad
12/18- Safety Drill
12/18- Half Day
12/19-1/4- December Break
1/4- First Day Back of Spring Term
1/6-1/8-Half Days
1/6-1/8-January Conferences
1/8- Fire Drill
1/12- Math Olympiad
1/14- Recker Spelling Bee
1/18- No School for Martin Luther King Day
1/27- Half Day
1/30- Eastmark Color Run
2/5- STEM Learning Celebration
2/8-2/12- AZELLA Testing
2/9- Math Olympiad
2/10- Spring Pictures
2/15- No School for President's Day
2/17– Fire Drill
2/22-2/26- Gifted Testing
2/24- Half Day
3/3-3/3/5 Half Days
3/3-3/5 March Conferences
3/8-3/16 Spring Break
Athletic Dates to Remember 
Mrs. Sarah Laramie, M.A.  
Principal, Recker Campus
Doctoral Candidate, Grand Canyon University
San Tan Charter School
3959 E. Elliot Rd.
Gilbert, AZ 85234
Phone:  480-222-0811