Laramie Letters 10/29
Halloween Reminder
As we prepare for Halloween coming this Tuesday, I wanted to take the time to let our families know what it looks like here at San Tan. Halloween for San Tan is full of teaching and learning and we ask that NO costumes come to campus so that we can minimize the distractions of the day.
Please be safe with whatever your Thursday night might look like; one of the activities that they enjoy at the Sippel home is a visit from the Great Pumpkin. With five kiddos in their home, there is always an opportunity for many open pieces of candy and sick tummies to follow. However, the Great Pumpkin saves them from all of this, by taking all of the Halloween candy and replacing it with one present during the night.
Over the years we have had the great opportunity to partner with Robinson Orthodontics where they "buy back" all the candy donated to San Tan up to $500.00. They then send the candy to our Troops through the Packages from Home program.
Learning Celebration
Please park your cars in the parking lot, church, or the neighborhood, and pick up your child in their classrooms at your child's designated pick up time
Learning Celebrations are a time honored tradition here at San Tan Charter School. They are a time for you to join your child in their classroom, to experience learning at its finest. All classrooms, projects, work samples are unique and your child will most likely lead most of the learning celebration and show you around their classroom. They are more than a display of student work rather a time for students to reflect on and articulate what they have learned, how they learned, questions they answered, research they conducted, what they loved, and what they didn't.  The celebration provides powerful opportunities to make learning public for our students, a sense of pride in their accomplishments.  I hope you enjoy learning celebration as much as the kids, teachers, and administration do.
Kindergarten Information Night
Thursday November 14th, 2019
5:30 pm in the Gymnasium
Come learn about the choices you have for kindergarten at San Tan Charter School for the 2020-2021 School Year.
(Montessori, Mainstream, Full Day, Half Day)
We cordially invite you to take a journey through the day of a kindergarten student, learning about the strengths of the Mainstream and Montessori experiences. We hope this informational session will provide you the details you will need to make an informed decision for your child. After our presentation, we will take you on classroom tours to answer any individual questions about each experience.
Please sign up below.
https://www.signupgenius.com/go/4090B48A8AD2AA3FA7-kindergarten1
Multicultural Fair– Volunteer Opportunity
Our 2019 Multicultural Fair is just around the corner!  The 2019 Fair Theme embodies the mission and vision of San Tan:  WALK A MILE IN MY SHOES.  Each year families from all over the globe gather to share family histories through traditions, clothing, artifacts and FOOD!  Please join us!  The goal of the Multicultural Fair is always to education, entertain and expose students to places and people groups from around the world.  YOU DON'T WANT TO MISS THIS and WE DON'T WANT TO MISS YOU!  Please use the signup genius link to indicate your COUNT ME IN! response:  
https://www.signupgenius.com/go/70a0d4caea628a5f58-20192 to host a booth 
https://www.signupgenius.com/go/60b0f44afad28a3ff2-cultural So help as a parent volunteer.
Your shoes and culture are important!
Staff Love Day- Volunteer Opportunity
WE NEED YOU! It's that time of year where we help the classrooms get their thankful art done! November 7th From 9:00-11:00 our Art Masterpiece volunteers and you will be teaming up to take over the class and embark on an art project based on things we are thankful for. This art will be displayed at our annual Charlie Brown Thanksgiving Feast.
If you're interested sign up here: https://www.signupgenius.com/go/4090c4baaa922aafd0-staff any questions? Contact bheller@santancs.com
Charlie Brown Thanksgiving Information
One of San Tan Charter School's most memorable traditions is only THREE weeks away! This event dates back to Dr. Sippel and Mrs. Sippel's very first years as a school. Over the years it has transformed into a beautiful community event. All the while keeping with the heart of the first meal, bringing family together. Here are some FUN Facts about Charlie Brown Thanksgiving.
ALL Recker Campus Dismissal at 11:30am
Please park your cars in the parking lot, church, or the neighborhood, and pick up your child in their classrooms at 11:30am
Bring your turkey sandwiches, Chic Fila, pizza, or any meal you want to enjoy with your family and friends
Bring blankets, chairs, or other seating you would want to enjoy your meal
Sign up here: https://www.signupgenius.com/go/60B0448AAAC2FA7FF2-charlie to bring a dessert to share with our community
Sign up here to help bring needed supplies: https://www.signupgenius.com/go/4090b48a8ad2aa3fa7-recker1
All items must be NUT FREE
Please drop off your donation in the morning when you drop your student(s) off at school. We will have volunteers helping to take all items from cars in drive lane.
All items need to be cooked, defrosted, and ready to eat. We will have volunteers working during the school morning to cut all pies, etc.
Don't forget to walk through our Thankful Art created by each class and our Art Masterpiece Volunteers.
Fundraiser
We are excited to bring back the ZAG Fundraiser!!! With the ZAG Fundraiser we are happy to offer the athletic tumbler, Tervis products, and candle sales. All NFL, NBA, MLB, and NHL teams as well as select colleges are included. They are also offer non-athletic designs. The Tervis products come in a variety of designs with a double walled insulted tumbler, drinkware sets, stainless steel, and the standard tumbler. Each student will come home with a packet of information on the products. These products make great gifts for the holiday season. All orders are due Wednesday, November 6th, to ensure delivery for the holiday season. Please make all checks payable to San Tan Charter School. Please reach out to Ms. Tatum with any questions at ntatum@santancs.com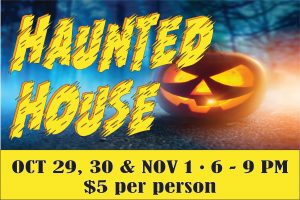 Haunted House
BOO! Get ready to SCREAM!  Take a trip through our Haunted House… If you dare! From October 29th to November 1st from 6-9pm.
Friday Night Football
This Friday is our last home game. This is also our Senior night. Please come out to support our STCS athletes.
STCS Recker Campus Yearbook for Sale
Our 2019-2020 Recker Campus Yearbook Team is pleased to announce the Premiere Sale of this year's Recker Campus Yearbook. Copies of the Yearbook can be ordered online or over the counter (with the attached Order Form). Our Yearbook theme this year is "Roadrunner Respect: What Goes Around, Comes Around" and the Team is excited to be creating and providing our families with a 100-page book of San Tan Memories. Order Link: https://www.yearbookordercenter.com/?event=general.displayLanding&jobnumber=21041
Dates to Remember 
10/29-11/1- Power Campus Haunted House
11/1- Second Grade Field Trip to Gilbert Historical Museum
11/1- Fourth Grade Field Trip to JABiztown
11/6- Sixth Grade Field Trip to Musical Instrument Museum
11/7 Montessori Music Celebration
11/7 Staff Love day
11/8 Multicultural Fair
11/8 K-8 Learning Celebration
11/11- NO SCHOOL for Veteran's Day
11/12- Recker Math Olympiad
11/13- Fall Picture Retake Day
11/14-Kinder Information Night
11/15- Fifth Grade Field Trip to American Heritage Festival
11/16- Elementary Math Olympiad Competition
11/21-11/22- Third Grade Overnight Zoo Field Trip
11/21- First Grade Sea Life Aquarium Field Trip
11/22- High School Powder Puff Football Game
11/27- Kinder Music Performance
11/27- Charlie Brown Thanksgiving Half Day
11/28-11/29- No School HAPPY THANKSGIVING
12/2- MAP Testing Begins
12/6- Last Day of Clubs
12/10- Elementary Music Concert
12/12- Montessori Music Concert @ 5-6
12/12- Middle School Music Concert @ 6:30-7:30
12/16-12/20- Scholastic Book Fair
12/19-12/20- Half Days
12/23-1/3- NO SCHOOL
1/6- First Day of Spring Semester
Athletic Dates to Remember
11/1 Varsity Football Game (Power Campus)
11/9 CAA Football Championships
11/15 JV HS Volleyball Game (Power Campus)
11/17 Varsity HS Volleyball Game (Power Campus)
11/18 Varsity Football Game (Power Campus)
11/25 Varsity Football Game (Away)
Mrs. Sarah Laramie, M.A. 
Principal, Recker Campus
Doctoral Candidate, Grand Canyon University
San Tan Charter School
3959 E. Elliot Rd.
Gilbert, AZ 85234
Phone: 480-222-0811
"Education is the most powerful weapon which you can use to change the world"- Nelson Mandela