Laramie Letters 10.24.23
Hello Recker Campus,

As we enter a quieter week on campus, many of our students are embarking on thrilling overnight camps and field trips this week. It's an exciting time for our students to explore the great outdoors, learn new skills, and bond with their peers in a fun and adventurous environment.

We would like to remind you that this is the next week is our final week of our food/toy drive for St. Vincent De Paul. Your support and generosity have been incredible so far, and we are grateful for all the contributions we have received. If you haven't had a chance to participate yet, we invite you to watch the video below featuring Elizabeth from Ms. Witte's class. In the video, Elizabeth passionately explains the importance of giving and suggests the best items to contribute, based on the needs of those in our community.

Your donations can make a significant difference in the lives of those less fortunate. Whether it's non-perishable food items or new toys, every contribution counts. Let's come together as a community and make this food/toy drive a great success.

Just a friendly reminder, please note that we have a half day on Halloween, with pick up scheduled between 11:00-11:30. To ensure a smooth and efficient day, we kindly request that costumes be left at home instead of being brought or worn to school. Thank you for your cooperation!

Warmest regards,

Sarah Laramie
Month at a Glance // October – November
Oct 23rd-25th- Recker Scholars Camp (4th-7th)
Oct 25th- Preschool Music Celebration
Oct 27th- Recker Gifted Littles Day Camp (K-3rd)
Oct 31st- Safety Drill
Oct 31st- Half Day
Oct 31st– Preschool Fall Festival
Nov 1st- Junior High Sports Award Ceremony
Nov 3rd– Recker Learning Celebration
Nov 6th– Recker Cultural Fair
Nov 10th– Veteran's Day-No School/Office Closed
Honor the Fallen Event
We have a family here at San Tan with a non-profit, Honor the Fallen. They host an annual event, called 5K for Heroes. This event will be on 11.11.23 at Eastmark. Adults can walk or run (strollers and dogs welcome) and we will have a Kids 1k Adventure Run. They would be so grateful if you would be able to help us promote this event. It's a great family friendly event that gives back.  Proceeds are donated to families of fallen military, police and fire.
You can share discount code: SanTan15 for 15% off entree fees.
Charlie Brown Thanksgiving T-Shirts
Celebrate the holiday with the STCS on Wednesday, November 22, as our culinary department delivers another great Thanksgiving dinner. Families will be welcome on campus starting at 11am for the early release day and enjoy fellowship and food with the San Tan family.  If you are planning to attend this year, please enter the main office when entering campus. We look forward to seeing you there!
Click on this link to order your very own unique Charlie Brown Thanksgiving t-shirt!
https://yqysjrrxph.formstack.com/forms/charlie_brown_thanksgiving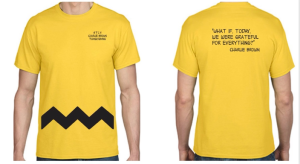 Learning Celebration Save the Date!
Learning Celebration is a time-honored tradition that we have at San Tan where families are invited into each student's classroom to celebrate all the hard work and learning the students have done. We will run Learning Celebration from 2:00-3:30 (11:30-12:00 for half day Kinder) on Friday November 3rd.
Cheer Information Night
Tuesday, November 7th from 5-5:30pm in the Recker Library
On November 7th at 5PM we will be hosting a JV cheer meeting to get ready for the winter season. The age group for STCS JV Cheer is 4th-6th grade. If your student-athlete is interested but you will not be able to attend the meeting please send either Mr. Kristofer Sippel Jr or Coach Ashley Martinez an email so we can provide you with all the information needed.