Laramie Letters 10.11.22
Letter from the Principal
Dear San Tan Families,
Welcome back to the second quarter!! I hope you had a fantastic break! We have a lot of fun events coming up this quarter so stay tuned for all of those announcements!
– Mrs. Sarah Laramie
Month at a Glance
Paper Drive- 10/10- 12/9
EF 2023-2024 Trip Night- 10/18

Domestic Trip- 5 pm
International Trip- 6 pm

Half Day of School- 10/31
Important Announcements
Door Decorating Contest Winners
Huge congratulations are in order really for everyone as it was SO cool to see the school community come together to celebrate San Tan's Homecoming week! Congratulations to the following classrooms as they are the winners of our door decorating contest!!
First Place- Ms. Cowled's Classroom
Second Place- Ms. Yocklin's Classroom
Third Place- Ms. Berhost's Classroom
Fourth Place- Ms. Edam's Classroom
Tied for Fifth Place- Ms. DeWyke and Ms. Dippre's Classrooms
Sixth Place- Ms.Hubbard's Classroom
Disguise Your Pumpkin Competition
Click the following link to join us for our Annual Disguise your pumpkin competition. This is such a fun family event that brings out our competitive and creativity sides, but most of all some fun with our families.
https://yqysjrrxph.formstack.com/forms/recker_pumpkin_competition
Guidelines:
Pumpkin size:  2lbs or less
Pumpkins cannot be carved
No scary Halloween decorations (Preschool friendly)
10/24 Turn pumpkins in to the front desk and a number will be assigned.
Families will get a chance to vote for their favorite pumpkin 10/24 – 10/28.
Favorite Pumpkin will be announced on 10/28
EF 2023-2024 Trip Offering
We have two major trip offerings for our 2023-2024 school year. One trip is domestic and one trip is international. These trips are open to ALL STCS families.
Come hear all the details, including the itinerary, activities, academic opportunities, the cost of the trip and EF's risk-free enrollment period at our informational meeting on 10/18 at starting at 5:00 PM (for the Domestic Trip) and 6pm (for the International Trip). The meeting will take place in the Power Campus Room 513.
Domestic Trip- Eastern Seaboard
Travel from Boston to New York to Philadelphia to Washington DC to Colonial Williamsburg and see all the historical sights
Here is the RSVP link: https://bit.ly/3COF9t9
International Trip- Scotland and Ireland
Travel from the highlands and the emerald isle
Please click here to register for the meeting (or to get info) ASAP to save your seat for the Scotland and Ireland Trip Information: https://bit.ly/3AZqdWV.
There are limited spots on both trips, so we would love to have you attend this meeting to learn more about this exciting opportunity!
Cultural Fair- Volunteers Needed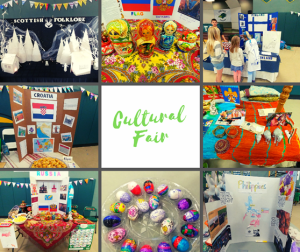 We are hosting our annual Cultural Fair at the Recker campus on November 7th from 9:00-1:30. We typically ask for parents to come in and volunteer to run a table based on your family's culture. We would love for families to host a table to share artifacts, foods, and stories that reflect your family's culture. This is such a fun and informative event for our elementary students.
Here is our sign-up link and thank you so much for considering!
https://www.signupgenius.com/go/20f0e45adac22abf94-cultural2
Football Anthem
In celebration of a job well done with singing the National Anthem at the Diamondbacks Game and the Homecoming Game, we are inviting the all students to participate in singing the National Anthem at each home football game for the rest of the year! Please sign up using the following link.
To Sign Up To Sing Please Click Here
Paper Drive
Our annual beginning of the year PAPER DRIVE is in full effect starting Monday, October 10th– December 9th. The class with the MOST points will receive a teacher reward for participating is $100 classroom fund. Write your teacher's name on the paper and send it to the front office.
White Ream of Paper =1 point
Don't have time to run out to the store? No worries!! San Tan Charter School partners with Amazon Smiles! Amazon Smiles is fast and easy… Shop Amazon as normal and 0.5% of your purchase supports educational enrichment right here at San Tan Charter School!
Visit:  smile.amazon.com/ch/56-2610311 to start shopping now! You can ship your order directly to the school and add a "gift receipt" with your child's teacher's name on it!
School Address
3959 E Elliot Rd
Gilbert, AZ 85234
Recker Academic Success Kit (RASK)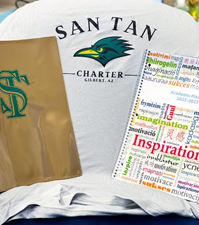 We are asking families for $30 per child to purchase our "Success Kit". In the success kit, will be the following items.
      Agendas
      School Communication Folder
      Data Tracking Kit
      School T-shirt
We will be taking payments with the following link: Make Online Payment
Guest Teachers
We need guest teachers to fill in when our teaching staff is out ill. If you would like to guest teach for us, please email Ms. Richardson at srichardson@santancs.com to get back on the list for this school year.
Family Engagement Committee
At San Tan, we do not have a PTO, we have the Family Engagement Committee! The FEC will be helping with school events, parent groups, fundraising initiatives and organizing parent support within the classroom.
If you are interested in joining, please email at fec@santancs.com
EF Tours 
Our list of registered travelers and those interested in travelling is growing each day. Please see our list of travel locations for next school year!
Bell'Italia Trip (Open to Everyone) March 13, 2023 – March 21, 2023
Enroll Due Date October 15th
Washington DC Trip (6th Grade Only) April 12th-April 16th, 2023
Enroll Due Date October 15th
Belize Trip (8th Grade Only) May 5, 2023 – May 15, 2023
Enroll Due Date October 15th
New York City (Theater Arts Students Only) June 22nd– June 26th, 2023
Enroll Due Date October 15th
Helpful Links
Fall Field Trip Offerings 
Social Media Links 
Facebook- San Tan Charter School Family Connection
Facebook- Mrs. Laramie Principal Recker Campus
Instagram- Mrs. Laramie Principal Recker Campus