Homecoming Parade
Hello Recker Campus Families!
Please Join us for San Tan's first EVER Homecoming Parade! On Homecoming Friday, the Power campus we will be marching through Morrison Ranch and visiting kiddos at the Recker Campus. This is a great opportunity to show your San Tan pride and come out to the event to help with school spirit!
When: Friday, September 20th
Where: Morrison Ranch & Recker Campus
Time: Parade begins @10am
Parents – Please see the map below for parking, seating, and the parade route.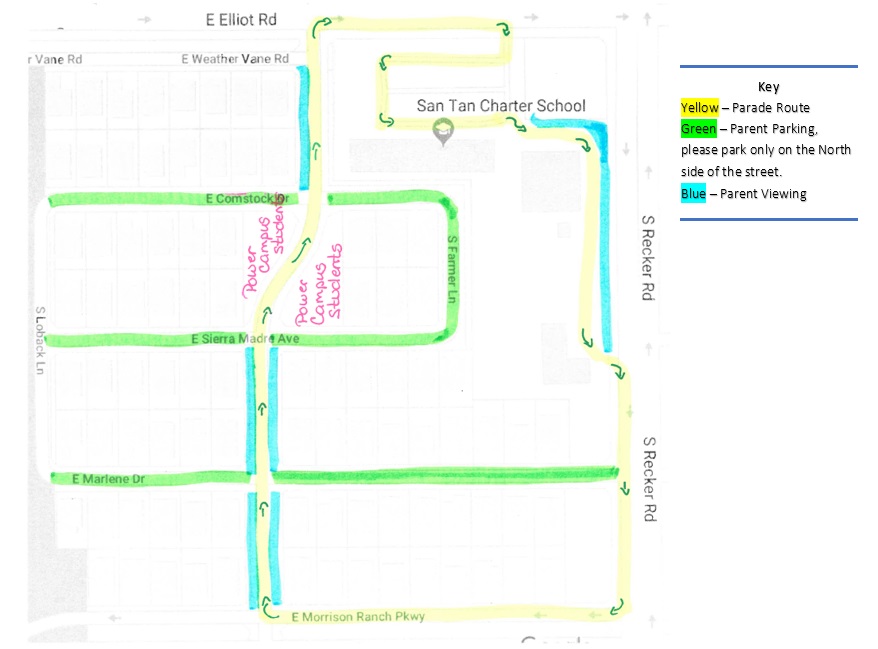 If you do not want your student to participate in the Homecoming Parade, you can opt-out here.
**As we have many young students on campus, Recker classrooms have been assigned designated viewing areas for safety and security. If you would like to check your student out of school in order to watch the parade with them, you are welcome to do so at the front office. Please check them back in the front office after the parade in concluded**
Thank you all and we are so excited to see you in the morning!
Mrs. Sarah Laramie, M.A.  
Principal, Recker Campus
Doctoral Candidate, Grand Canyon University
San Tan Charter School
3959 E. Elliot Rd.
Gilbert, AZ 85234
Phone:  480-222-0811
"Education is the most powerful weapon which you can use to change the world"- Nelson Mandela