Bobby Davis National Coach of the Year
FOR IMMEDIATE RELEASE                                                             May 8, 2023
Contact:  Kristofer Sippel
     CEO/Superintendent of Schools
     San Tan Charter School Inc.
                 480-222-0811
Bobby Davis from San Tan Charter School in Gilbert is Named the National High School Strength Coaches Association's National Coach of the Year
Davis Was Nominated for the Award by High School Strength Coaches Across Arizona Who are in the National High School Strength Coaches Association
GILBERT, Arizona—When Bobby Davis was hired by San Tan Charter School in July of 2021 to be the school's new strength and conditioning coach, he knew he wanted to bring an innovative and well-rounded approach to the school's student athletes.
Davis, who works with middle school and high school students, as well as the student athletes who play flag football, volleyball and boys' basketball, has created a successful program that focuses on speed, agility and nutrition instead of only spending hours in the weight room.
Davis's unique approach caught the eye of other high school strength coaches in Arizona who are part of the National High School Strength Coaches Association (NHSSCA). Recently, they nominated Davis to be NHSSCA National Coach of the Year.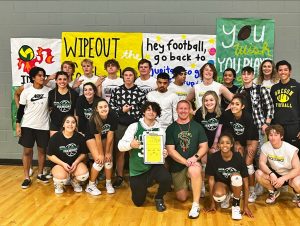 After going through a lengthy evaluation process, Davis was thrilled to learn that he won the prestigious award.
"I was very humbled to be nominated, let alone receive the award. There are a lot of phenomenal coaches in this state, so it is humbling to know that they believe in me and what I am doing," Davis said.
Brandon Tauscher, Principal of San Tan Charter School's 7-12 Power Campus, is pleased but not surprised that Davis was named the NHSSCA National Coach of the Year. As Tauscher wrote in his letter of recommendation to the NHSSCA, Davis is one of the most "uniquely gifted, personable, and popular teachers" he has worked with in his 20-plus career in education.
"What stands out most is his ability to connect with any person on campus, and in how quickly he has built the weight room into a destination classroom experience," Tauscher wrote in the letter, adding that Davis overhauled the school's athletics department by attracting both student athletes and a large number of non-athletes to the weight room and his classes."Coach connects with his students not just because they recognize his obvious competence in his discipline, but because they trust him."
Davis came to San Tan Charter School with a wealth of experience in strength and conditioning.
After working alongside his dad Bob Davis at the family's Strength of America program, Davis began working as a head strength and conditioning coach in 2015.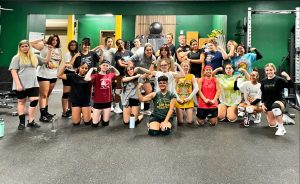 Davis said he really enjoys working with the students, coaches and rest of the staff at San Tan Charter School.
"I believe that a rising tide raises all ships, and the people that surround me here push me to strive to be better for them and the student athletes here. I have also really enjoyed the relationships I have created with the student athletes here as well as the community here," Davis said.
"It is a great feeling to know that I am on the right track and making a positive impact on the kids here at San Tan Charter School."
***ADDITIONAL PHOTOS AVAILABLE UPON REQUEST***For more information about Coach Bobby Davis, and/or to interview him, student athletes and/or parents, please contact Kris Sippel at 480-222-0811.
 About San Tan Charter School:
San Tan Charter School is a Kinder-12th grade public non-profit tuition free charter school with two campuses in the East Valley within minutes of each other. The Power campus is a Junior High/High School serving students in grades 7-12 and the Recker campus is an elementary school serving students K-6 including a private Montessori preschool and K-6 tuition free Montessori classrooms. The school uses a Love and Logic® approach to classroom management that is focused on building relationships and communicating with respect. The school focuses on "Education with a Purpose," which means the teachers encourage their students' love of learning, which enables them to face challenges and develop critical thinking skills. San Tan Charter School also offers a championship athletics experience 5th through 12th grade and PE daily K-6. San Tan Charter School is focused on maximizing each student's intellectual development with a Gifted program K-12, Honors/AP classes, Concurrent/Dual Enrollment classes and elective choices including career and technical education (CTE)-Culinary and Aviation as well as the opportunity for Juniors and Seniors to attend EVIT half day. For more information, please visit https://santancharterschool.com/