Armstrong's Agenda 4/15
Good afternoon, Roadrunners!
Happy third week of Home-Based Instruction.  I hope that your students are navigating the system well.  It has been so wonderful hearing from the students again.  Teachers and administration are here to support you, if you or your child are having any difficulties, please let us know.  You may have noticed that you received a 'Guardian' account access email from the Google Classroom.  This access allows you to see the classroom in real-time so that you are aware of what is expected of your student.  Please call or email me if you have not received this email or are having a difficult time signing up.
San Tan's New Principal Announced
I am thrilled to support the promotion of Brandon Tauscher to principal of San Tan Charter School – Power Campus.  I cannot think of a finer person to take the helm of the school that I helped start and lead for the past six years.  After spending the last year working closely with Brandon, I am confident that he will continue to do the great work that we do each and every day —  loving and educating kids.  Please join me in congratulating him on his promotion…..now his hard work begins.  J
Home Based Instruction
As a reminder the dates for Home-Based Instruction are as follows:
4/14-5/15  Home-Based Instruction begins
5/18-5/22   Final Exams
We will be very flexible in the coming weeks, and we know that some families and students are going to experience glitches along the way.  Please let us know how San Tan can best support you during this time.
Families in Need
I know that some families are going through extremely rough times right now.  If you need additional support during this time, here is a list of schools that are providing meals for those children under 18 years old. You can click on the school district and they will have a map showing what school in the area/district are providing meals.  There are also a few places that are giving out free meals at the beginning of this article.
Morning Announcements
In order to more communicative with our families, we have moved our morning announcements for both campuses to YouTube.  Please take a moment to watch our morning announcements each day.  San Tan Charter School YouTube Channel
Yearbooks
Yearbooks are still available for this school year.  Please  Click Here to Order Today.
Videos/Pictures of Home-Based Instruction
Please send us your pictures or videos of home-based instruction.  We would love to see what the kiddos are up to.  Please send them to videos@santancharterschool.com
Graduations
Have no fear!  We have not cancelled either the 8th grade or High School graduations.  As of right now, they are still on-we cannot wait to celebrate with you.  We will be keeping up to date with the news and if that changes, we will let you know.
Virtual Tour
With the help of our very own Keaton Yarger, Mr. Tauscher and I created a virtual tour for prospective families.  I thought you might want to take a look at the great work that Keaton did:  STCS Power Campus Virtual Tour
Checking Email
Please remind your student(s) that it is super important to check their emails each day.  The teachers are sending a lot great information to their email.
Electives
You still have time to choose your electives for next school year if you have not done so already.  Log into the Infinite Campus portal and select what you would like to take next year.  If you have any questions, please reach out to our counselor, Mrs. Taylor, directly at btaylor@santancs.com
We truly miss you and hope that all is well.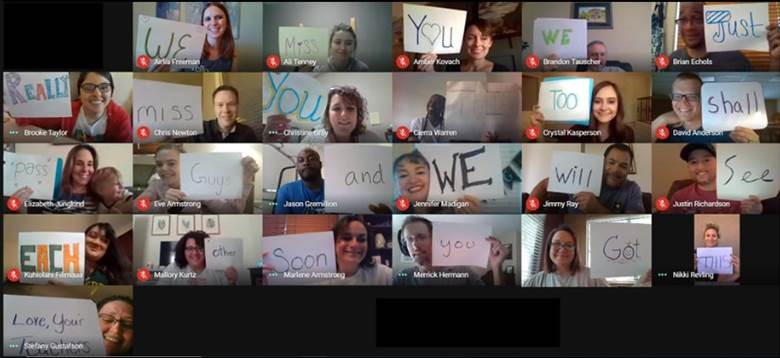 I hope that your family is happy, healthy and safe!
HUGS!
Marlene